In This Moment Members Quit To Back James Durbin Of American Idol Fame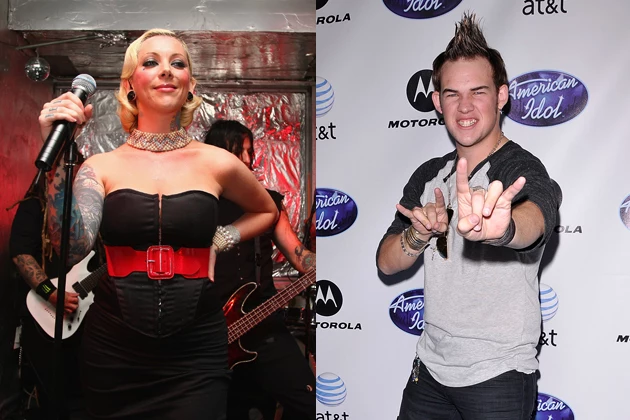 The drummer and rhythm guitarist for metal band In This Moment turned in their walking papers in order to back former American Idol contestant James Durbin.
You may remember James Durbin as the guy singing during Zakk Wylde's guest appearance on the last season of American Idol. In the aftermath of the exposure he received from the reality singing competition, Durbin is now launching a solo career and his debut album 'Memories of a Beautiful Disaster' will be in stores on November 21st.
Durbin has been drafting musicians for his band, and has apparently picked up the rhythm guitarist and bass player from In This Moment as he first told Noisecreep recently:
"I'm really excited about the guys I have playing with me. My lead guitarist, Dylan, also plays in a metal band called Archer – who you might know from them opening for bands like Black Label Society. Our bassist, Tyle, played in a glam band called Dirty Penny. Our rhythm guitarist Blake Bunzel and drummer Jeff Fabb left the band In This Moment and are now doing this with me full time."
It was announced by In This Moment themselves that it was not merely a side project situation for Bunzel and Fabb — their departure from the band was permanent. Their official statement regarding the mutual split hit the band's Facebbok page just days after Durbin announced the new additions to his roster:
"We want to announce that Jeff and Blake are no longer a part of In This Moment. They have left the band to support American Idol contestant James Durbin, and we wish them the best in their future endeavors. We are embracing this change with open arms, and a renewed spirit…. sometimes you have to let go of what's in your hands to reach for something greater! In …the meantime, we are back in the studio, writing for our new album and the new songs are sounding better than anything we've done to date, we are aiming for a summer 2012 release so get ready and look out for a bigger and badder ITM in the coming year, thank you again to our friends and fans for all your love and support!"
James Durbin – 'Stand Up'

In This Moment – 'The Gun Show'

Trending on Banana1015.com