'Key and Peele' Set Obama's Final Anger Translation for 'Daily Show'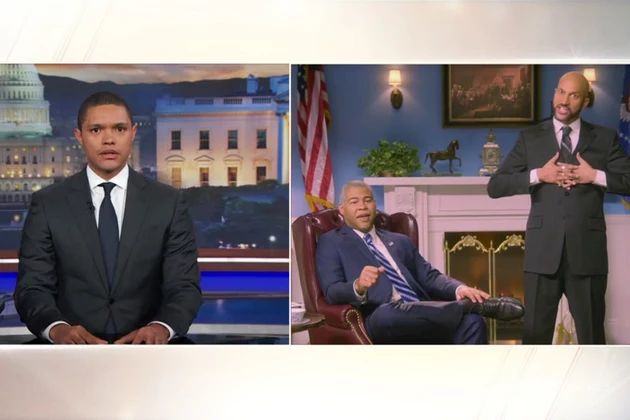 We'll miss a great many things about both Obama and Comedy Central's Key & Peele, but at least they'll go down in a blaze of glory together. So it is, that Keegan-Michael Key and Jordan Peele will bring Obama and anger-translator Luther back for one last appearance on tonight's Daily Show.
As the real Obama makes his final round of interviews as a sitting President, so too will Key & Peele make one final anger-translating appearance on the January 5 installment of The Daily Show With Trevor Noah. Comedy Central even offered a first look:
Tonight on The Daily Show, Obama and his anger translator Luther stop by to deliver a few parting words. pic.twitter.com/5gdbQMjIb9

— The Daily Show (@TheDailyShow) January 5, 2017
Peele's Obama has definitely gone a little greyer than we're used to, but in any case, don't worry about Obama and Luther staying silent forever. After all, we've already seen Key's Luther popping up to translate for the real Barack Obama, and the soon-to-be former POTUS probably stands to get a lot less diplomatic as the next administration rolls in.
In the meantime, check out a clip above, and stay tuned for Obama and Luther's farewell on tonight's Daily Show.

Source:
'Key and Peele' Set Obama's Final Anger Translation for 'Daily Show'
Trending on Banana1015.com