Pearl Jam Turns 20! New Music?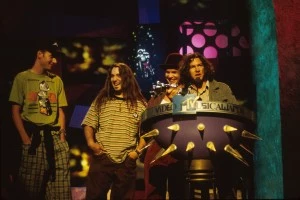 The band will celebrate their 20th birthday in 2011 with reissues, a documentary, a book, a music festival, and more? How could there be more? 
It's not always easy being the only Pearl Jam fan on staff at the Banana, it does have it's perks though (I usually get first dibs on PJ paraphernalia). Whether you're a fan or not there is no denying that they are one of the greatest American rock bands of all time. This year the band who started as Mookie Blaylock (yes that was actually their name) is celebrating their 20th anniversary. 
. 
It promises to be an eventful year for PJ which so far is set to include: 
Reissues of both Vs. and Vitalogy in new deluxe editions
The release of director Cameron Crowe's (Almost Famous, Jerry Macguire) documentary Pearl Jam Twenty with an accompanying book and soundtrack.
A 20th anniversary weekend bash (probably the summer music festival they were talking about starting this year)
The release of their decade spanning live compilation disc  "Live on Ten Legs" on January 17th.
The band stated via their website that there are also a number of special events lined up and even new unexpected releases due. Probably wouldn't be hard for the band to dig into their massive archive and put together another B-side album (think Lost Dogs), but maybe they'll drop a new EP or something REALLY cool (fingers crossed). After a disappointing year for Pearl Jam fans in 2010 (no Michigan dates for the Backspacer tour, WTF!), it looks like 2k11 will more than make up for it. Until then, here is an awesome performance of  "Red Mosquito" featuring Ben Harper… 
Subscribe to Banana 101.5 on
Trending on Banana1015.com