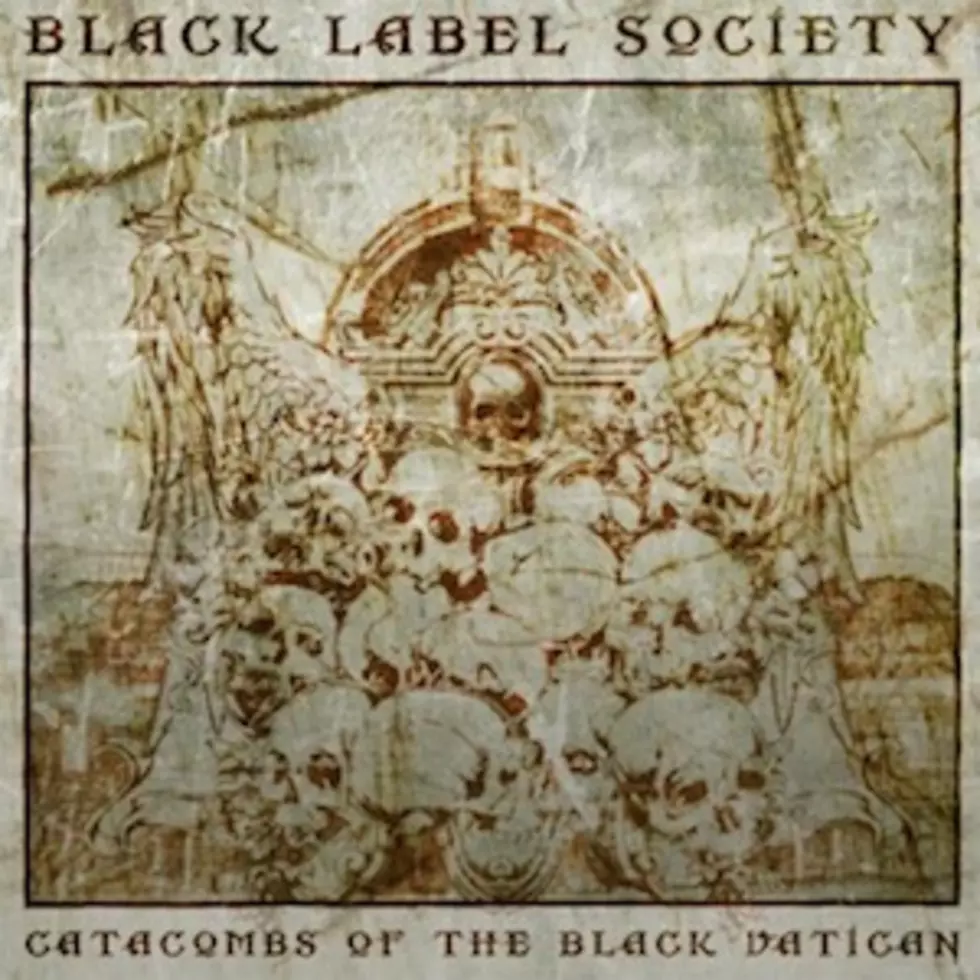 Black Label Society Reveal Album Art + Track Listing for 'Catacombs of the Black Vatican'
eOne
Metal fans are buzzing for the new Black Label Society album, 'Catacombs of the Black Vatican,' which is set to hit stores on April 8. In preparation for the album's release, Black Label Society have just unveiled the first single, album art and track listing for their 10th studio album.
If you were to enter ancient ruins dubbed "Catacombs of the Black Vatican," we're pretty sure you'd see a lot of what the album's cover depicts. Skulls everywhere, a grand throne adorned with angel wings, ancient script … yep, that just about covers it.
Although 'Catacombs of the Black Vatican' won't be out until April 8, you can own the new track 'My Dying Time' by pre-ordering the album on iTunes. After pre-ordering the record, 'My Dying Time' will become available as an instant download.
Black Label Society recently teased 'Catacombs' with a compelling trailer narrated by frontman Zakk Wylde. "Face your fear. Accept your war. Destroy and conquer. Within the catacombs of the black vatican," Wylde recites. "The short clip also displays the words, "Strength,' "Determination," "Merciless" and "Forever."
Black Label Society amicably parted ways with longtime guitarist Nick Catanese late last year, recruiting Lizzy Borden shredder Dario Lorina as Black Label's newest axeman. "I'm excited to officially announce that i've joined Zakk Wylde in Black Label Society," writes Lorina. "I'd like to extend a sincere and heartfelt gratitude to everyone for your continued support and warm welcome, It truly means the world."
Check out the full track listing for 'Catacombs of the Black Vatican' below and get ready for its release on April 8.
Black Label Society, 'Catacombs of the Black Vatican' Track Listing:
01. 'Fields Of Unforgiveness'
02. 'My Dying Time'
03. 'Believe'
04. 'Angel Of Mercy'
05. 'Heart Of Darkness'
06. 'Beyond The Down'
07. 'Scars'
08. 'Damn The Flood'
09. 'I've Gone Away'
10. 'Empty Promises'
11. 'Shades Of Gray'
12. 'Dark Side Of The Sun' (bonus track)
13. 'The Nomad' (bonus track)