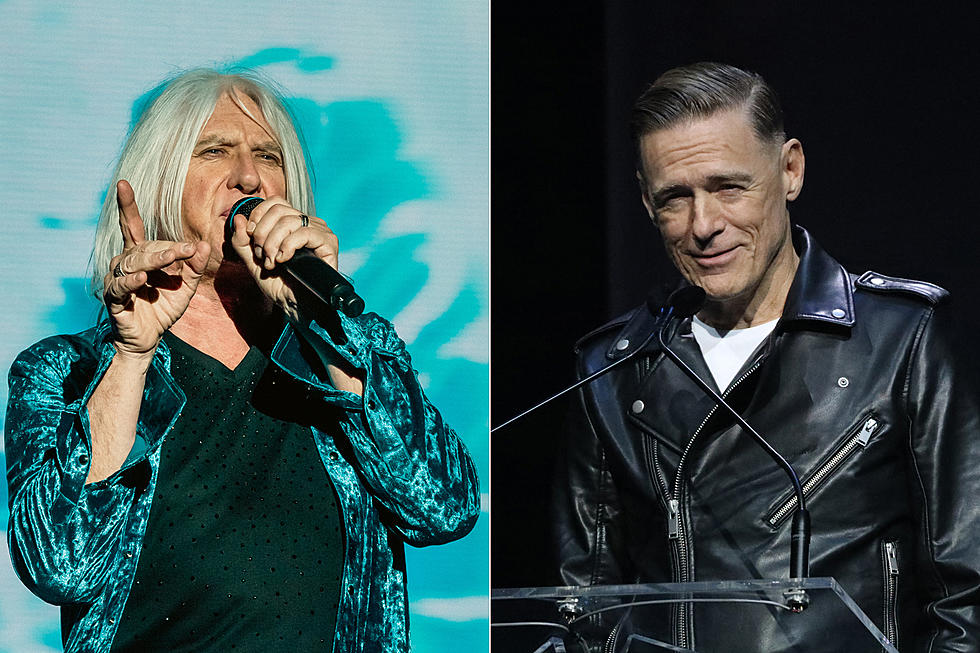 Joe Elliott – 'Bryan Adams Could Easily Be a Member of Def Leppard'
Medios y Media / Jeremy Chan, Getty Images
Can you imagine Bryan Adams fronting Def Leppard? Joe Elliott can. The Def Leppard vocalist addressed the idea while reflecting on a period in which he was critical of the Canadian rocker of delivering a sound that he felt was very similar to his own band, criticism that he now regrets.
As Ultimate Classic Rock points out, he topic came up while Elliott was a guest on The Mitch Lafon and Jeremy White Show, with the Def Leppard vocalist noting the common tie between his band and Adams' 1991 album Waking up the Neighbours being their producer Mutt Lange.
For a little refresher, Lange had worked with Def Leppard on 1981's High 'N' Dry, 1983's Pyromania and 1987's Hysteria, a very successful period for the group. But Adams had Lange in the studio working on Waking Up the Neighbours between March 1990 and June 1991, while Def Leppard were in a four-year stretch working with Mike Shipley on 1992's Adrenalize album.
White set the stage, asking Elliott his thoughts on the classic Adams album. "I got into a bit of trouble with this one," the singer says. "I thought it sounded a bit close to the bone."
"Bryan was a little bit pissed at me and fair play to him, he should've been," the singer continued before explaining, "But what it is, it's exactly the same as how High 'N' Dry sounded like AC/DC. What you've got is you've got the same producer, possibly using the same engineer, in the same studio."
"When we did High 'n' Dry, Mutt put Rick [Allen]'s drums exactly where Phil Rudd's drums were, using the same mics to mic them up. We probably used the same cabs and amps that Angus and Malcolm [Young] used that Steve [Clark] and Pete [Willis] used. So there's going to be a thing where somebody says High 'n' Dry sounds like Highway to Hell. Well, touche — it does."
Elliott then shares his regret over his initial criticism at the time, stating, "So I mouthed off a little bit too much there and I've apologized profusely to Bryan many times since. But that's the Mutt Lange factor. You know, Bryan Adams could easily be a member of Def Leppard, He could be the singer of Def Leppard. There's a cross-pollination cause he's a pop-rock artist and he works with the same producer that we did. We're a pop-rock band."
READ MORE: Why 1991 Had the Best 6-Month Release Period in Rock + Metal History
He then adds, "Eras do sound similar. Put on a '60s CD and there's loads of bands that sound like The Beatles. Put on a '70s CD and there's loads of bands that sound like Zeppelin or Deep Purple or whatever. And in the '80s, it got ridiculous. So, yeah, there's a similarity, but that doesn't take away from the fact that it was a really good record."
The singer then laughingly concludes, "I'm probably a little bit jealous some of those songs weren't on our record."
Adams' Waking Up the Neighbours album went on to yield seven charting songs around the world, including the Robin Hood: Prince of Thieves soundtrack chart-topper "(Everything I Do) I Do It for You" as well as more rocked up singles "Can't Stop This Thing We Started," "There Will Never Be Another Tonight," "Thought I'd Died and Gone to Heaven" and "Do I Have to Say the Words."
Def Leppard, meanwhile, kept their momentum going in March 1992 when Adrenalize yielded six charting songs of its own, led by "Let's Get Rocked," "Make Love Like a Man," "Have You Ever Needed Someone So Bad" and "Stand Up (Kick Love Into Motion)."
You might catch some of those Def Leppard classics on tour as the band is carrying over their touring with Stadium Tour mates Motley Crue into 2023. Get your tickets to see them here.
Def Leppard's Joe Elliott Speaks With The Mitch Lafon and Jeremy White Show
91 Rock + Metal Acts With Two or More Top 40 Songs
These songs rocked, then rolled over into the mainstream.