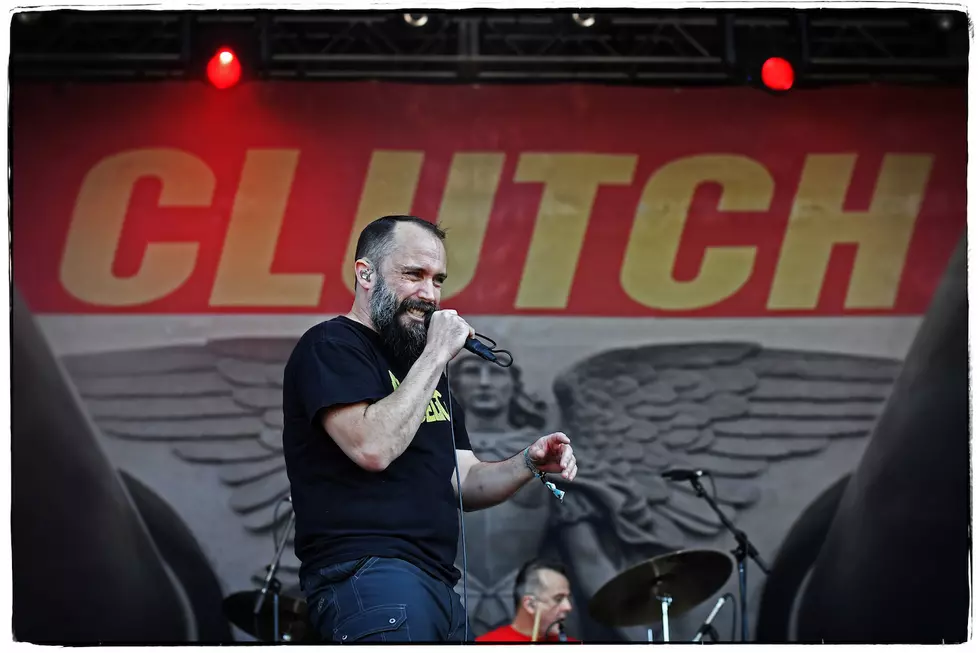 Clutch's Neil Fallon: 'It Is Important to Do More Good Than Harm'
Chris Condon
Clutch singer Neil Fallon was the latest guest on Full Metal Jackie's weekend radio program. He talked about the group's forthcoming album, Book of Bad Decisions, which takes stories and lessons from the band's career and filters them through the new songs. Fallon also offered some thoughts on his work as a board member for the Innocent Lives Foundation, which serves to protect children from online predators. Check out the chat below.
Clutch has a brand new album coming out called Book of Bad Decisions. Neil, you're often a noir pulp fiction kind of lyricist. How is it different for you to write a song that tells an autobiographical story like "Gimme the Keys?"
It is kind of new to me in some ways because I have always been kind of dismissive of real-life events because I have found them to be kind of boring. Then I realized that they're not necessarily that boring if you just take up a heaping helping of poetic license with it and for 27 years now we have been doing this. There is bound to be at least one or two lyrics in there somewhere.
By the way, great album title. What's the best thing you've ever learned from making a bad decision?
Learning how to recognize it and not doing it again. Which doesn't always pan out but I think you ought to look at any bad decision as a chance to learn something and I think ultimately that's what life is about. Certainly, no one is perfect.
The last two albums were produced by Machine and recorded in Texas and New Jersey. This time you worked in Nashville with Vance Powell. How did that collaborative and geographical difference dictate the overall sound of the new album?
Well we had written the whole record before we had got into Nashville, so it didn't really have that much of an impact in that regard but Vance Powell is an amazing engineer and producer and he comes from a live background. Although a lot of that is country music it doesn't really matter what the genre is, studio engineer techniques are the same no matter what and he is a master at it.
You became a board member at the Innocent Lives Foundation. How is your involvement in changing you as a person?
The Innocent Lives Foundation the mission statement is to unmask online child predators. Which is something I've known about but like a lot of other people I didn't want to know anything more about it than I already did? The thing is the kids who are in these situations of horrific abuse don't have the luxury of ignoring it and I said, "Well I am in a position to help somehow and it if it helps one kid then it is worth it and it is incredibly humbling."
It is a very dark topic but I think it is important to try to do more good than harm in this world and if this is some way I can do that, then I feel very fortunate to have been asked to be a board member on it.
Clutch have been the same four guys since you were in high school. There is a high level of familiarity, musically and personally. In what ways do you still surprise each other onstage and offstage?
Well I think we surprise each other because we're so familiar with how we play onstage. It is kind of easy to read each other's minds but despite that, there are always those moments where we may switch up a bass line that really stands out because we're used to our inter-band languages. We always surprise each other with our collective sense of humor. You got to have one and the band always sounds the same because it is the same four dudes but we all know we want to learn together as we progress as a band through the years.
Clutch have a tendency to play new songs before they're recorded. How many of the tracks on Book of Bad Decisions actually came together onstage?
In one shape or another every song was played somehow onstage. Even if it were just a brief instrumental thing. There was only one song that was written entirely in the studio. The thing is about that is sometimes things may sound great in the studio but when you bring it onto the stage it doesn't translate. We learned very quickly that the best litmus test for a song is in front of a crowd because the band will play it differently than the comfort of a studio and the laziness that sometimes a studio can create. Rock 'n' roll or any kind of music, its true home is live onstage.
Thanks to Neil Fallon for the interview. Pre-order your copy of Clutch's 'Book of Bad Decisions' (out Sept. 7) here and follow the band on Facebook. Find out where you can hear Full Metal Jackie's weekend show here.
2018's Most Anticipated Hard Rock + Metal Albums