Rock On The Range 2011 Schedule + Staff Picks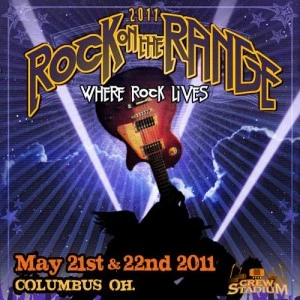 The lineup gets bigger and better every year for the annual rock festival in Columbus, Ohio and this year is no exception. There are a ton of great bands playing and we want to make sure you don't miss any of them. Check out the artists that we're excited to see as well as the official schedule.
In addition to the schedule below, weekend ticket holders will be able to check out a few performances on Friday night. Red Line Chemistry kicks off the pre-party at 7p followed by Lez Zeppelin @ 7:45, Danko Jones @ 8:35, and closing out the night is the hilarious Steel Panther @ 9:30.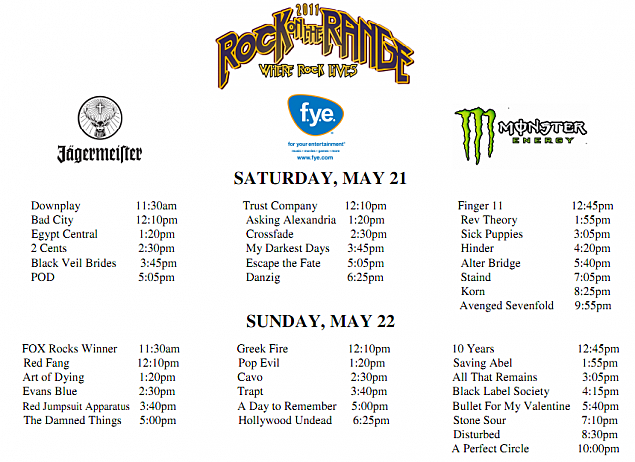 Tree
"I won't be in attendance this year but if I were I would definitely be checking out APC, BLS, Disturbed, and Avenged. Disturbed isn't my favorite band but they are kick-ass live and A7x is one of those bands that does everything on an epic scale, especially their stage show. I've never seen Alter Bridge either and Tremonti is a badass on guitar so the'yre on the list too. The Damned Things are also a killer band live so if you haven't been exposed to them yet,  take your ass to the Jager stage Sunday @ 5."
MAGGIE MEADOWS
"This is my second year at ROTR and I am super excited. I have seen a lot of the bands on the bill already thanks to the Machine Shop. So I am looking forward to seeing some peeps that I have never seen.
This is my top 3 MUST SEE!
1. Stone Sour
2. Avenged Sevenfold
3. Alter Bridge
I don't throw the word "amazing" around much. BUT, when it comes to Corey Taylor I do! He is amazing and I am excited to see Stone Sour. I did not get the chance to see A7X when they played the Palace a few months ago, so I am pretty amped to check out their set. I did see Myles Kennedy play with Slash so I am looking forward to seeing him with Alter Bridge. His voice is unreal. Mark Tremonti is awesome so I am sure their set will rock."
Tony LaBrie
"This will be my 3rd year at ROTR and I'm pretty jacked at this amazing lineup again. I'm really excited to see A Perfect Circle because I have never seen them in concert. I was too drunk to remember Asking Alexandria at the Machine Shop and I'm a huge fan, so that will be badass. Finally, I've nothing but great things about A Day To Remember, so I got check that out. I mean, at the end of the day it's going to be a killer weekend especially with Danko Jones and Steel Panther kicking things off on Friday night for the pre-party."
Timmy Gray
"This will be my first year venturing down to Columbus for this show, what I have heard this is always a great time. First off; Friday night is going to be badass, getting to see Danko Jones and Steel Panther on the same stage what else could you ask for. I'm really going down there to work and help with posting interviews, photos and whatever else comes my way, but hopefully I won't be stuck in the media tent all weekend. I am really excited to see A Perfect Circle, never saw them but always wanted to. Other top bands that I must see down while down there are; Escape the Fate, Danzig, Avenged Sevenfold, Black Label Society and Stone Sour. I'm torn by a couple bands which will be playing at the same time; The Damned Thing vs. A Day to Remember, hard choice there. All in all it should be a good weekend. Stay tuned for posts that whole weekend."
Trending on Banana1015.com