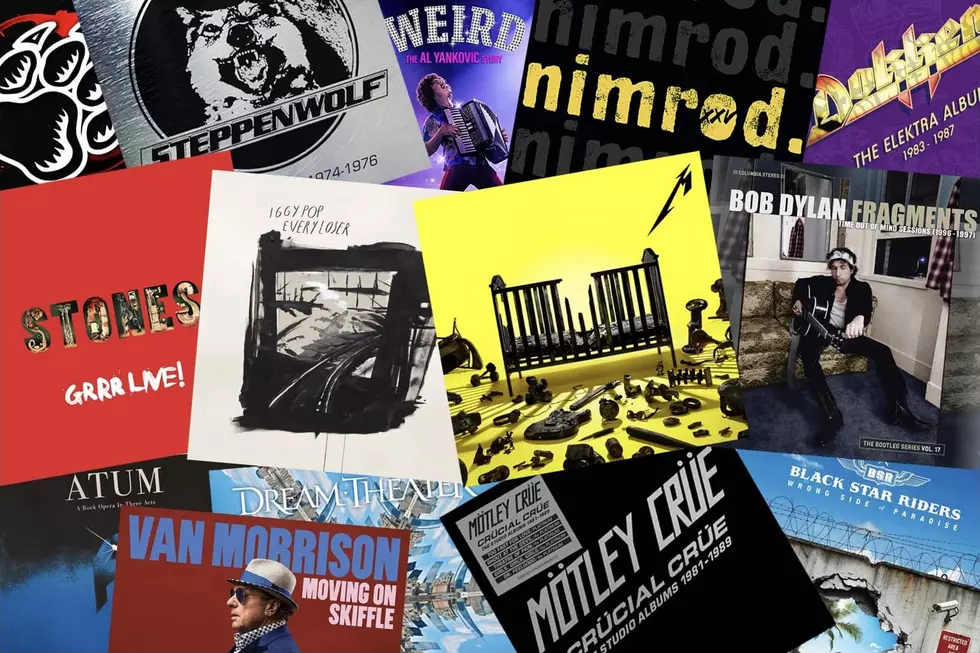 UCR
A surprise lockdown-recorded LP with a huge tour will get 2023 off to a fast start.
72 Seasons marks Metallica's first album since 2016's Hardwired ... to Self-Destruct and explores how childhood trauma impacts the rest of our lives. Dates in support of the project will also feature Pantera, Mammoth WVH and Greta Van Fleet.
Iggy Pop returns with Every Loser, which features Red Hot Chili Peppers' Chad Smith and Guns N' Roses' Duff McKagan. Sessions were overseen by Andrew Watt, who recently produced and co-wrote Ozzy Osbourne's Patient Number 9.
Steve Vai's upcoming "straight-ahead rock album" titled Vai / Gash features shelved recordings with singer Johnny "Gash" Sombretto from 1991. The Smashing Pumpkins' ATUM, a "rock opera in three acts," is billed as the sequel to both 1995's Mellon Collie and the Infinite Sadness and 2000's Machina/Machines of God.
The latest installment in Bob Dylan's Bootleg Series is the five-CD or 10-LP Fragments – Time Out of Mind Sessions set, which will focus on recordings from 1996-97. Highlights will include two discs of outtakes and alternate takes, plus a disc of live performances.
More information on these and other pending rock albums can be found below. Remember to follow this continuously updated list of new music releases for details on records issued throughout the year.
Jan. 6
Iggy Pop, Every Loser
Olivia Newton-John, Greatest Hits Volume 2: Deluxe Edition
Jan. 13
Dream Theater, Lost Not Forgotten Archives: Live at Madison Square Garden 2010
Rupert Hine, Surface Tension: The Studio Works 1981-1983 (3CD clamshell box)
Jan. 20
Black Star Riders [Thin Lizzy], Wrong Side of Paradise
John Cale [Velvet Underground], Mercy
Rolling Stones, In Mono (16LP box)
Various Artists, 1981: All Out Attack! (2CD set, with the Ramones, the Damned, Killing Joke, others)
Various artists, Gary Crowley's Indie '90s Playback: Classics, Curveballs and Bangers (3CD set, with Paul Weller, Jesus Jones, Big Audio Dynamite, Luscious Jackson, others)
Jan. 27
Bob Dylan, Fragments – Time Out of Mind Sessions (1996-1997): The Bootleg Series Vol. 17
Carly Simon, Live at Grand Central
Dokken, The Elektra Albums 1983-1987 (4CD box)
Elvis Presley, Elvis On Tour (6CD/Blu-ray box physical release)
Green Day, Nimrod: 25th Anniversary Edition
Marianne Faithfull, Kissin Time: Expanded Edition
Prog Collective, Seeking Peace (Steve Morse, Geoff Downes, Steve Stevens, Graham Bonnet, Patrick Moraz, Jordan Rudess, Billy Sherwood, others)
Steppenwolf, The Epic Years 1974-1976 (3CD set)
Steve Vai, Vai/Gash
Various Artists, What a Groovy Day: The British Sunshine Pop Sound 1967-1972 (3CD set with the Zombies, Herman's Hermits, the Hollies, Cliff Richard, others)
Feb. 3
Carole Bayer Sager, Sometimes Late at Night: Expanded Edition
Poco, The Sony/BMG A's and B's (2CD set)
Various artists, The American Bandstand US Top 100 5th August 1957 (4CD set)
The Winery Dogs, III (Richie Kotzen, Mike Portnoy and Billy Sheehan)
"Weird Al" Yankovic, Weird: The Al Yankovic Story: Original Motion Picture Soundtrack
Feb. 10
The Rolling Stones, GRRR Live!
Various artists, Steven Wilson Presents: Intrigue – Progressive Sounds in UK Alternative Music 1979-89 (4CD box with the Cure, Tears For Fears, Kate Bush, XTC, others)
Feb. 17
Danzig, Circle of Snakes (vinyl and cassette reissue)
Marshall Crenshaw, Marshall Crenshaw: 40th Anniversary Expanded Edition
Motley Crue, Crucial Crue: The Studio Albums 1981-1989 (5CD box)
Robert Palmer, The Island Records Years (9CD box)
Various artists, Musik Music Musique 3.0: 1982 Synth Pop on the Air (3CD clamshell set with Tears for Fears, New Order, OMD, Talk Talk, Human League, others)
Various artists, Teenage Glampage: Can the Glam 2 (4CD box with Mott the Hoople, T-Rex, Bay City Rollers, Suzy Quatro, others)
Feb. 24
Adam Lambert [Queen], High Drama
Alan Parsons Project, The Turn of a Friendly Card (3CD/Blu-ray set)
Andy Fairweather Low [Roger Waters/Eric Clapton], Flang Dang
Bernie Marsden [Whitesnake], Big Boy Blues and Green: 1995-2005 (4CD clamshell box)
The Church, The Hypnogogue
Del Shannon, Stranger in Town: A Del Shannon Compendium (12CD box)
Ken Hensley [Uriah Heep], Past and Present, Songs in Time: 1972-2021 (6CD clamshell box)
Motorhead, Bad Magic: Seriously Bad Magic
Steel Panther, On the Prowl (with Dweezil Zappa)
Trapeze [Glenn Hughes], Don't Stop the Music: Complete Recordings Vol. 1 (1970-92)
Various artists, Deviation Street: High Times on Ladbroke Grove 1967-75 (3CD clamshell set with Roxy Music, Motorhead, Tyrannosaurus Rex, Hawkwind, others)
March 3
Elvis Costello, The Songs of Bacharach & Costello
Frank Zappa, Zappa '80: Mudd Club/Munich (3CD set)
Genesis, BBC Broadcasts (5CD or 3LP set)
March 10
Blackmore's Night, Shadow of the Moon: 25th Anniversary Edition (CD/DVD set)
The Smile, Europe: Live Recordings 2022
Van Der Graaf Generator, The Bath Forum Concert (2CD/Blu-ray/DVD clamshell box)
Van Morrison, Moving On Skiffle
March 17
Ten Years After, A Space in Time (remastered reissue)
U2, Songs of Surrender
March 24
Elton John, Honky Chateau (expanded 50th anniversary edition)
Depeche Mode, Memento Mori
Peter Schilling, Coming Home: 40 Years of Major Tom (4CD box)
Pink Floyd, Dark Side of the Moon (expanded 50th anniversary edition)
Various artists, Dance Craze: The Best of British Ska … Live!: Deluxe Edition (The Beat, Madness, the Specials, others)
March 31
Foghat, Road Fever: The Complete Bearsville Recordings 1972-1975 (6CD box)
Last in Line [Dio], Jericho
Ralph Molina, Billy Talbot, Nils Lofgren and Neil Young [Crazy Horse], All Roads Lead Home
The Who, With Orchestra Live at Wembley
The Zombies, Different Game
April 7
Andy Fairweather Low [Roger Waters/Eric Clapton], Flang Dang (vinyl release)
Allan Clarke [Hollies], I'll Never Forget
Kiss, Off the Soundboard: Poughkeepsie, New York, 1984
Mamas and the Papas, The Mamas and the Papas (remastered)
April 14
Frankie Valli and the Four Seasons, Working Our Way Back to You: The Ultimate Collection (45CD box)
Joe Bonamassa, Tales of Time
L.A. Guns, Black Diamonds
Metallica, 72 Seasons
Natalie Merchant, Keep Your Courage
Neil Young, Somewhere Under the Rainbow [Santa Monica Flyers], High Flyin' [the Ducks]
The 13th Floor Elevators, 13 of the Best of the 13th Floor Elevators (vinyl reissue)
April 21
Blood Sweat and Tears, What the Hell Happened to Blood Sweat and Tears?: Original Soundtrack
Ian Hunter, Defiance Part 1 (Joe Elliott, Billy Gibbons, Duff McKagan, Todd Rundgren, Slash, Jeff Beck, Taylor Hawkins, others)
Jethro Tull, RokFlote
Revolution Saints, Eagle Flight
April 22: Record Store Day
RSD EXCLUSIVE
Billy Joel, Live at the Great American Music Hall: 1975 (2LP)
Black Keys, Live at Beachland Tavern March 31, 2002 (LP)
Brian Eno, Forever Voiceless (LP)
David Byrne, The Complete Score From the Catherine Wheel (2LP)
Canned Heat, Vintage (LP)
Captain Beefheart and the Magic Band, I'm Going To Do What I Wanna Do: Live at My Father's Place 1978 (2LP)
Eric Carr, Rockology (2LP)
Carole King, The Legendary Demos (LP)
The Cure, Show: 2023 Remaster (2LP)
Dio, Live in Fresno 1983 (2LP)
The Doors, "Love Her Madly, "Hello, I Love Yo, "Break On Through (To the Other Side)" (3-inch vinyl)
Duran Duran, Carnival Rio! (LP)
Elvis Presley, Burning Love: The RCA Rehearsals (2LP)
Jerry Harrison, The Red and The Black (2LP)
Jerry Lee Lewis, Live at the Palomino Club (2LP)
Joe Strummer, Streetcore: 20th Anniversary (LP)
Keith Richards, Vintage Vinos (2LP)
Motley Crue, "Helter Skelter" (12-inch picture disc)
Motorhead, Lost Tapes, Vol. 4: Live in Heilbronn 1984 (2LP)
Pearl Jam, Give Way (2LP)
Ramones, Pleasant Dreams: The New York Mixes (LP)
Ringo Starr, Stop and Smell the Roses (2LP)
Rolling Stones, Beggars Banquet (LP)
Scott Weiland, 12 Bar Blues (2LP)
Soul Asylum, MTV Unplugged (2LP)
Stevie Nicks, Bella Donna Live 1981 (2LP)
Ted Nugent, Nuge Vault Vol. 1 (LP)
Todd Rundgren, A Wizard / A True Star (LP)
UFO, Will The Last Man Standing (Turn Out the Light) (2LP)
Van Halen, Live: Right Here, Right Now (4LP)
Violent Femmes, Violent Femmes: 40th Anniversary (LP)
Wilco, Crosseyed Strangers: An Alternate Yankee Hotel Foxtrot (LP)
Yes, Live at Knoxville Civic Auditorium (4LP)
RSD FIRST
Allman Brothers Band, Syria Mosque: Pittsburgh, PA 1-17-71 (2LP)
Eddie Money, The Covers (LP)
Elton John, Don't Shoot Me, I'm Only the Piano Player (2LP)
Fleetwood Mac, Albatross/Jigsaw Puzzle (12-inch vinyl)
Hawkwind, The Iron Dream: Live 1977 (LP)
Jerry Garcia Band, How Sweet It Is (2LP)
Joan Jett and the Blackhearts, Up Your Alley (LP)
John Lennon, Gimme Some Truth (10-inch vinyl box)
Mr. Big, Mr. Big (LP)
Paul McCartney and Wings, Red Rose Speedway (LP)
Pearl Jam, Give Way (CD)
Queensryche, Operation Mindcrime II (2LP)
Strawberry Alarm Clock, Incense and Peppermints (LP)
T. Rex, Rockin' & Rollin' (LP)
U2, "Two Hearts Beat as One/Sunday Bloody Sunday: War & Surrender Mixes"
Warren Zevon, The Wind (LP)
RSD LIMITED RUN/REGIONAL
Eric Carr, Rockology (CD)
Emerson Lake and Palmer, Brain Salad Surgery (LP)
Ringo Starr, Stop and Smell the Roses (CD)
April 28
Glen Matlock [Sex Pistols], Consequences Coming
King's X, In the New Age: The Atlantic Recordings 1988-1995 (6CD box)
Rickie Lee Jones, Pieces of Treasure
Stephen Stills, Live at Berkeley 1971
May 5
Winger, Seven
Smashing Pumpkins, ATUM
May 12
Bruce Cockburn, O Sun O Moon
Detective [Michael Des Barres], Detective
Rick Springfield, Springfield (deluxe-edition reissue)
Scott Weiland, 12 Bar Blues (digital-deluxe reissue)
May 19
Dave Matthews Band, Walk Around the Moon
Def Leppard, Drastic Symphonies
Ghost, Phantomime EP
Graham Nash, Now
Neal Schon, Journey Through Time
Paul Simon, Seven Psalms
Various artists, Gary Crowley's Punk & New Wave Vol. 2 (4CD box with the Clash, Ramones, Devo, the Cure, the Jam, Psychedelic Furs, Generation X, XTC and others)
Various artists, We're an American Band: A Journey through the USA Hard Rock Scene 1967-73 (3CD set with ZZ Top, Alice Cooper, Blue Oyster Cult, Steppenwolf, Vanilla Fudge, Blue Cheer and others.)
Yes, Mirror to the Sky
May 26
Alan Parsons Project, The Turn of a Friendly Card (Blu-ray edition)
Chris Squire, Fish Out of Water (vinyl edition)
Hanoi Rocks, The Days We Spent Underground 1981-84 (5CD clamshell box)
Joe Perry, Sweetzerland Manifesto MKII
June 2
The Alarm, Forwards
Black Sabbath, Live Evil: 40th Anniversary Super Deluxe Edition
Bob Dylan, Shadow Kingdom
Dr. John, The Montreux Years
Foo Fighters, But Here We
Hollywood Vampires, Live in Rio
John Mellencamp, Orpheus Descending
Jorma Kaukonen [Jefferson Airplane and Hot Tuna], Live at the Bottom Line
Noel Gallagher's High Flying Birds, Council Skies
Quicksilver Messenger Service, Live at the Fillmore: June 7, 1968 (2CD set)
Roger Waters, The Lockdown Sessions (CD/vinyl release)
June 9
Alice Cooper, Killer; School's Out (expanded 2CD/3LP reissues)
Extreme, Six
Jason Isbell and the 400 Unit, Weathervanes
Ratt, The Atlantic Years 1984-1990 (5CD box)
Spencer Davis Group, A's and B's 1964-1967 (2CD set)
June 16
Drive-By Truckers, The Complete Dirty South
Gov't Mule, Peace ... Like a River
Poco, Legacy (vinyl reissue)
Queens of the Stone Age, In Times New Roman
Steve Lukather, Bridges
Yusuf/Cat Stevens, King of a Land
June 23
Dream Syndicate, The Days of Wine and Roses (40th anniversary expanded edition)
Eric Clapton, The Definitive 24 Nights
Gary Moore [Thin Lizzy], The Sanctuary Years 1999-2004 (4CD box)
Little Feat, Sailin' Shoes; Dixie Chicken (expanded 2CD/3LP reissues)
Stewart Copeland, Police Deranged for Orchestra
Various artists, We're an American Band: A Journey Through the USA Hard Rock Scene 1967-1973 (3CD set with Alice Cooper, Steppenwolf, Vanilla Fudge, Iron Butterfly, others)
June 30
Big Country, Driving to Damascus (4CD deluxe box)
Frank Zappa, Funky Nothingness
Grateful Dead, Here Comes Sunshine 1973 (17CD box)
Hawkwind, Warrior on the Edge of Time (Steven Wilson vinyl remix)
Howard Jones, Sings What Is Love (12-inch blue-vinyl)
Huey Lewis and the News, Japanese Singles Collection: Greatest Hits (CD/DVD set)
Melvins, At the Stake: Atlantic Recordings 1993-96 (3CD clamshell set)
Various artists, Round and Round: Progressive Sounds of 1974 (4CD clamshell box with Jethro Tull, Traffic, Jack Bruce, Gong, Nektar, Hawkwind, Utopia, others.)
July 7
Jackson Browne, Running On Empty (vinyl reissue)
Rory Gallagher, All Around Man: Live in London (2CD set)
Nita Strauss [Alice Cooper], The Call of the Void
July 14
Aerosmith, Aerosmith, Get Your Wings, Toys in the Attic, Rocks, Draw the Line, Live! Bootleg, Night in the Ruts, Rock in a Hard Place, Nine Lives, Just Push Play, Honkin' on Bobo and Music from Another Dimension (vinyl reissues)
Duane Betts, Wild and Precious Life (Derek Trucks, Marcus King, others)
Marshall Crenshaw, Field Day (40th anniversary expanded edition)
July 21
Greta Van Fleet, Starcatcher
Nils Lofgren [E Street Band and Crazy Horse], Mountains
July 28
Andrew Gold, Greetings From Planet Love/The Fraternal Order of the All (compact-disc and double 10-inch splatter vinyl reissues)
Girlschool, WTFortyfive? (Duff McKagan, Phil Campbell, others)
Joni Mitchell, At Newport
Various artists, Where Were You: Independent Music From Leeds [1978-1989] (3CD clamshell box with Soft Cell, Gang of Four, Scritti Politti, Sisters of Mercy, others)
Aug. 4
Mammoth WVH, Mammoth II
Aug. 11
Human League, Secrets (expanded 2CD reissue)
Various artists, Jem Records Celebrates Ray Davies
Aug. 18
Talking Heads, Stop Making Sense (expanded reissue)
Sept. 1
Pretenders, Relentless
Oct. 27
Billy Bragg, The Roaring Forty: 1983-2023 (2CD set)
Nov. 17
Dolly Parton, Rockstar
TBA / Rumored:
Ace Frehley, Origins, Vol. 3; (untitled original project)
Adler (untitled, details here)
Bad Company (untitled, details here)
Bruce Springsteen, Tracks 2; Covers Vol. 2
Chris Robinson (untitled, details here)
David Crosby, (untitled, details here)
George Clinton, One Nation Under Sedation
Jerry Lee Lewis (untitled, details here)
Joe Walsh (untitled, details here)
Kinks (untitled reunion LP, details here)
Krokus (untitled, details here)
Lemmy Kilmister (untitled solo debut, details here)
MC5, Heavy Lifting
Mick Mars (untitled solo debut, details here); (untitled John Corabi collaboration, details here)
Neil Young, Ragged Glory (expanded edition)
Pearl Jam (untitled, details here)
Robert Plant (untitled, details here)
Robin Taylor Zander [Cheap Trick], (untitled solo debut)
Roger Waters (untitled, details here)
Rolling Stones (untitled, details here)
Steve Perry (untitled, details here)
U2, Songs of Ascent (new songs)
ZZ Top (untitled, details here)