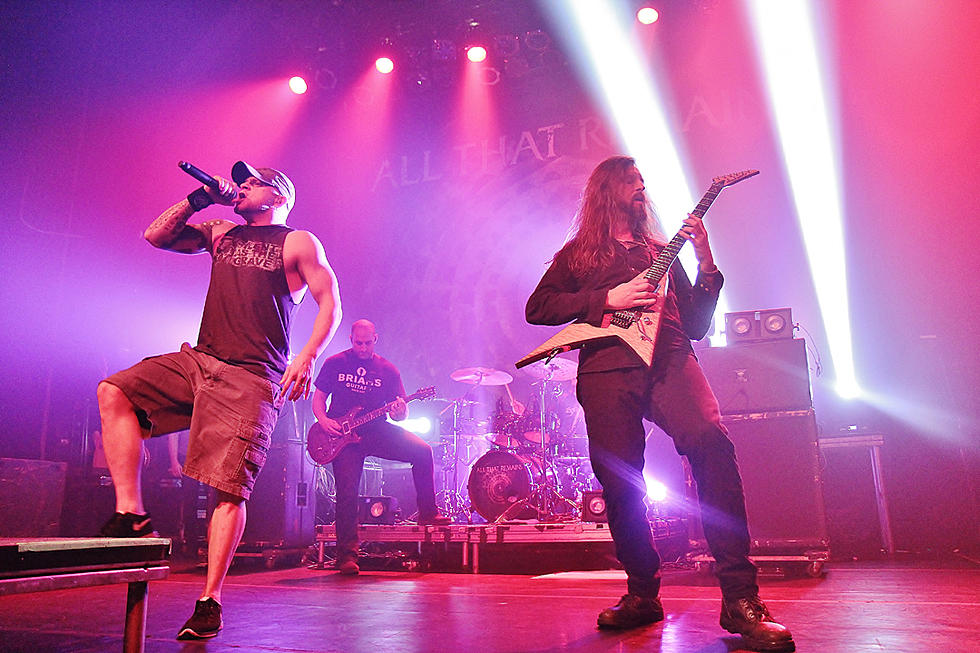 All That Remains' Phil Labonte Picks 'Not Alone' as Favorite Oli Herbert Song
Liz Ramanand, Loudwire
Tomorrow (Nov. 9) marks the release of a new All That Remains album, but it's a bittersweet moment for the band as Victim of the New Disease was the last album that guitarist Oli Herbert played on before his death last month. Along with singer Phil Labonte, Herbert had been with the group since their early days, and we spoke with Labonte about the guitarist's impact on the new record as well as the band's entire history.
The vocalist told us it was hard to pinpoint something from their new album that stood out to Herbert as the two musicians often would convene on tour after completing an album to discuss their personal likes. That said, Labonte did state, "I know that he was pretty proud of 'Misery in Me' and I'm pretty sure he was really digging 'Broken.' There's a couple of other songs that we didn't put on the record that will be heard someday."
Reflecting on his musical partnership with Herbert over the years, Labonte recalled the musician being rather reserved in the early days, eventually becoming more comfortable with bringing his ideas to the table. "The thing about it, Oli was a really shy kind of dude, so it really took two records for Oli to feel kind of comfortable to start writing songs," says Labonte. "Oli would come in with some stuff. Behind Silence, Oli wrote one song on it, and then on [This] Darkened [Heart] he would do a lot of the solos and leads and stuff, but the meat of the songs he didn't come up with. But The Fall of Ideals is when he really started feeling comfortable bringing stuff and being, 'This is an idea I have.' We were eating it up, so because of Oli's personality it was something that I really think took time to develop. He had to grow into the role of writing most of the riffs and music and stuff."
As for his favorite Oli moments on record, Labonte offered, "Probably The Fall of Ideals, and that might be a little bit obvious, but he came up with some really cool stuff on that record. One of my favorite things that Oli ever wrote was a song called 'Not Alone,' and the guitar work in that song is super cool. It's aggressive, it's heavy and the guitar picking stuff is super cool. I think that 'Not Alone' is probably my favorite thing he's ever done."
All That Remains do have European tour dates to finish out the year, and Labonte revealed that an announcement will be coming soon on who will fill in for Herbert on their upcoming run of shows. See where the band will be playing here and stay tuned for our full interview with Labonte about the new album coming soon. You can also order Victim of the New Disease at this location.
All That Remains Albums Ranked
10 Sickest Breakdowns Ever