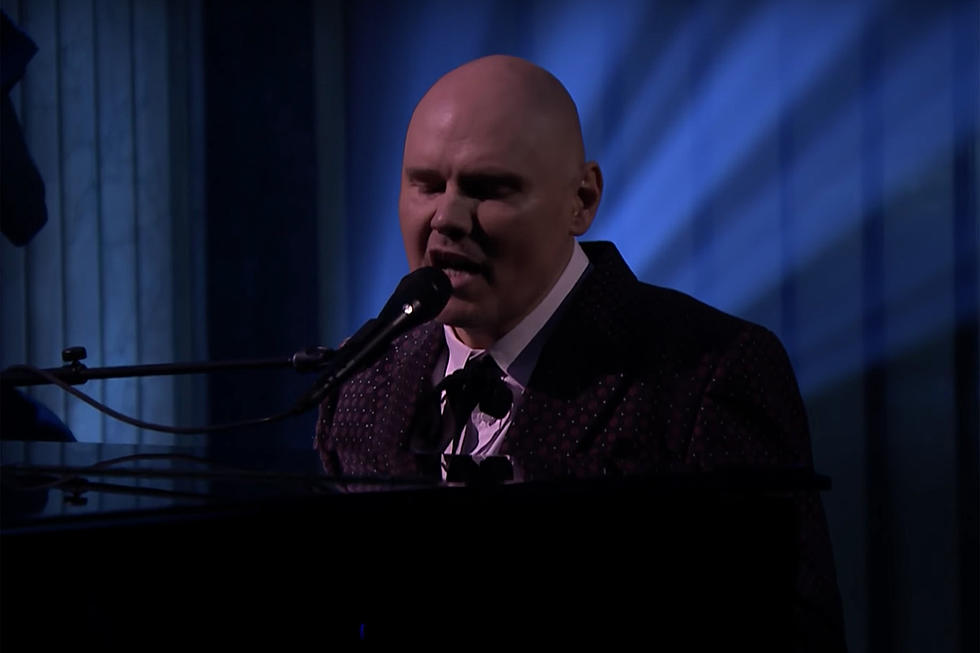 Billy Corgan Performs 'Aeronaut' on 'The Tonight Show Starring Jimmy Fallon'
YouTube
Billy Corgan, or William Patrick Corgan as he'd like you to call him, releases his new solo album today, Ogilala. Last night, the Smashing Pumpkins frontman appeared on The Tonight Show Starring Jimmy Fallon to perform his single "Aeronaut."
Fallon introduces Corgan with a lot of love, as the camera cuts to him on a piano. The song begins with just Corgan simply playing the song, but as he continues through, he's joined by a string section that gives the song a nice joint melody. Hearing Corgan's voice in the live setting is a really beautiful thing, as it sounds nearly identical to his earlier days in the Pumpkins, as strange and captivating as ever. The performance shows off how excellent Corgan has been all these years, and how there's cohesion between projects.
Recently, Corgan has spoken about whether or not the Pumpkins will be touring with their original lineup of James Iha, D'arcy Wretzky and Jimmy Chamberlin. "[A reunion tour] has been knocked about. There's certainly gears that turn and things get waved around, but until it's inked, I'm in the dark as much as anybody," stated Corgan. "But I'll say this and I mean it: If we never play a note together again, that's okay. I'm way, way more interested in the fact that we have peace with each other. I've reached the point in my life where I'm not in a hurry to get to anything. If it's there, great. If it's not, cool."
Watch Billy Corgan perform "Aeronaut" on The Tonight Show!
Billy Corgan + James Iha Reunite Onstage at Smashing Pumpkins Show
Smashing Pumpkins Albums Ranked
Loudwire Music Awards Tickets Available Now!