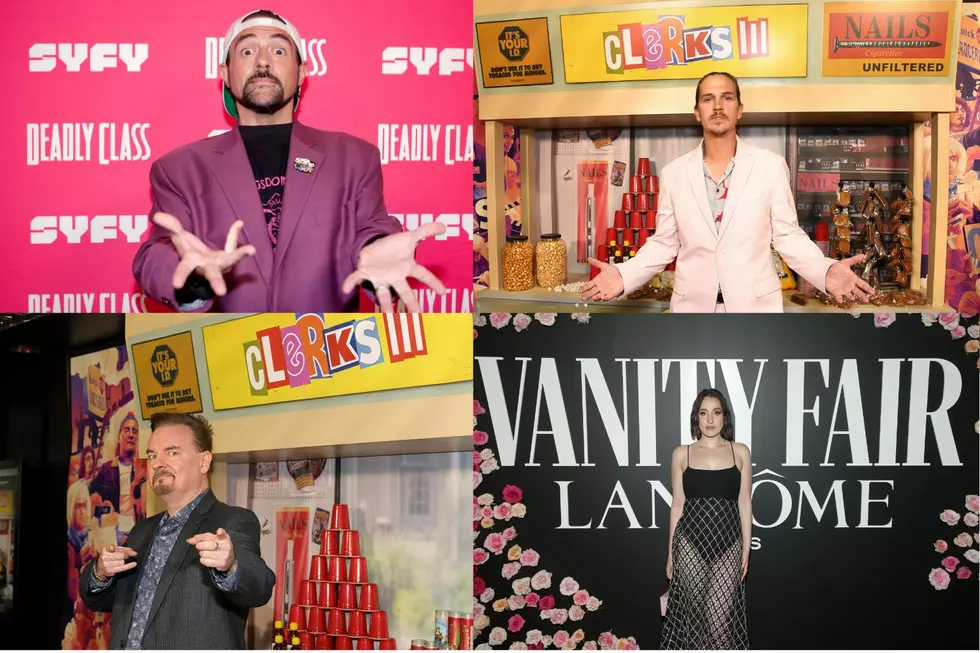 The Cast of the 'Clerks' Franchise to Reunite in Livonia in March
Getty Images
Your favorite characters from the Clerks franchise will all be in Livonia, MI in March.
Mark your calendars for March 3rd through March 5th, 2023 for a Clerks cast reunion. Astronomicon 6 will take place at Burton Manor on Schoolcraft Road in Livonia and bring in special guests Kevin Smith, Jason Mewes, Brian O'Halloran, and more.
The View Askewniverse will be live and in the flesh at Astronomicon this year! For those that are unfamiliar, the View Askewniverse includes some of Kevin Smith's greatest movies such as Clerks, Mallrats, Chasing Amy, Dogma, and so many more. This is your chance to meet some of your favorite characters.
Astronomicon 6, "Metro Detroit's #1 Pop Culture Convention," will feature many celebrity guests this year and is just under two months away. Check out the list of all the guests below.
Astronomicon 6 Celebrity Guests:
"Silent Bob" himself, Kevin Smith (Saturday Only)
Jason Mewes, the one and only "Jay" of Jay and Silent Bob
WWE Hall of Famer Trish Stratus (Saturday & Sunday Only)
Doug Bradley  - "Pinhead" from Hellraiser
Comic Legend Jon Lovitz (Saturday and Sunday Only)
WWE Hall of Famer Rikishi
Brian O'Halloran from Mallrats and Clerks
Quinn Lord - "Sam" from Trick R Treat
Bonnie Aarons from The Conjuring 2, The Nun, and more
ECW Legend Sabu
Twiztid
Tom Waltz, TMNT Writer
ECW Legend Sandman
Ricky Dean Logan from Nightmare on Elm Street: Freddy's Dead and Back to the Future 2
Harley Quinn Smith of Jay and Silent Bob Reboot, Clerks III, and more
Trevor Fehrman of Clerks II & III
Austin Zajur of Clerks III and Scary Stories to Tell in the Dark
James O'Barr, creator of The Crow
Ming Chen of AMC's Comic Book Men
Dirk Manning, comic book writer
Bill Morrison, comic book artist for The Simpsons, Futurama, and more.
Blaze Ya Dead Homie
Ryan J. Downey of Knotfest, Loudwire, and MTV News
Speed Painter Dave Santia
and more.
To buy tickets or get more information on Astronomicon 6, click here. 
Source: Astronomicon
16 Famous People From Detroit and What Their Net Worth is Today
The great state of Michigan has produced a lot of notable people and famous celebrities. Check out who they are and what their net worth is today here.
A Cool Look Into an Abandoned Radio Studio in Detroit
Take a look at the inside of an abandoned radio building in Detroit below. The architecture is very cool and even some of the old equipment is still on site.
A Look Inside the Abandoned Detroit "Pill Mill" Raided by the DEA
This abandoned medical clinic in Detroit still sits untouched after being raided by local and federal authorities in 2017 as part of Operation Candy Man.