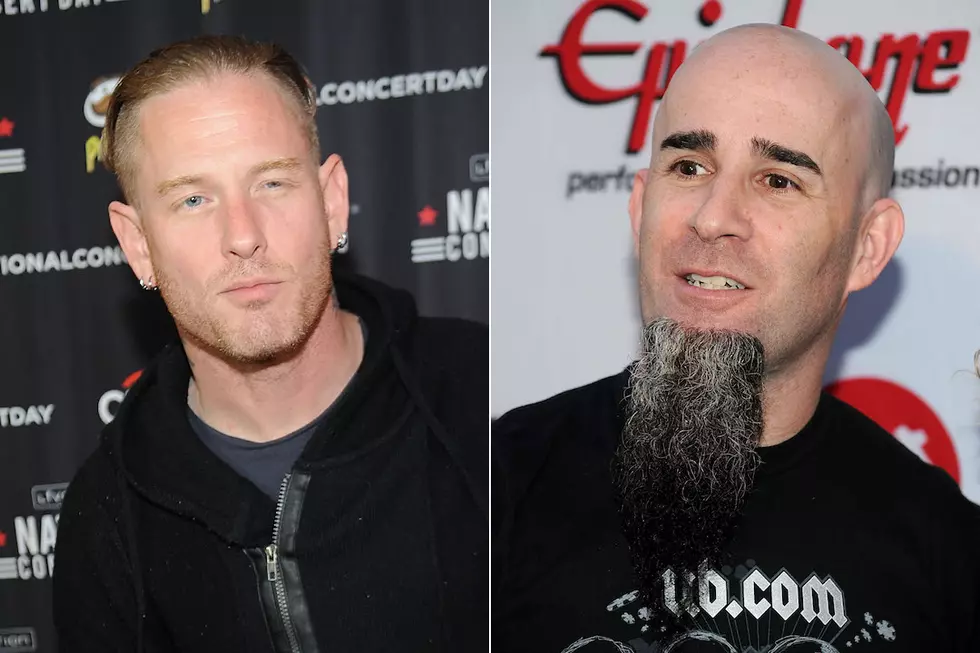 Corey Taylor Talks Alcoholism and Ego With Scott Ian on 'Never Meet Your Heroes'
Brad Barket / Frazer Harrison, Getty Images
As any rock and metal fan knows by now, Slipknot / Stone Sour frontman Corey Taylor freely speaks his mind on just about any topic, including himself. Known for his blunt honesty, Taylor opened up about his struggle with alcohol dependence earlier in his career and how writing the Stone Sour song "Bother" ramped up his ego while guesting on Scott Ian's SiriusXM show Never Meet Your Heroes (audio below).
First discussing his alcoholism, Taylor told the Anthrax guitarist (transcription via Blabbermouth), "There was a huge war going on in my head and that kind of fed the booze." He went on to describe how he abandoned drugs as a teenager, but used alcohol as a crutch before stepping onstage thinking "it's good luck," but now admitted it was "such addict bulls--t."
Ian went on to commend Taylor for his sobriety over the last decade, noting the singer as an "exception to the rule" when describing how so many other musicians release subpar albums after getting clean. Taylor opined, "I think it's because, and you could probably relate to this, it's because I still want to do it. I think a lot of guys, once they stop having the lifestyle, they don't want to be musicians anymore because either A) that's the whole reason they got into it in the first place, or B) it's too much of a reminder of the fact that they can't live that way anymore." Stating he's always had the drive as a professional musician, Taylor added, "I feel like I'm doing my best work now, to be honest."
Regarding his ego and how it coincided with his alcohol abuse, Taylor traced the cycle back to writing the Stone Sour song "Bother" off their eponymous 2002 record. In an attempt to contribute some writing despite admittedly not being as good a guitarist as his Slipknot bandmates, the song took on a Stone Sour vibe "that suddenly it was filling this void that I didn't even realize that I had."
Adding how this furthered his ego and that he became "that lead singer douchebag," he's grateful for the experience because he would not be the same person he is today without it. In his past, Taylor conceded he would get "vicious, really selfish, really just dark attitude, sh--ty, selfish, just bulls--t, just ego s--t" and has friends who have said, "If you ever fall off the wagon don't call me, dude."
Taylor was the first guest on Never Meet Your Heroes, which airs on Thursdays at 7PM ET on the new SiriusXM channel Volume.
Corey Taylor on Never Meet Your Heroes With Scott Ian
See Where Slipknot + Anthrax Rank Among the Top 50 Metal Bands of All Time
10 Unforgettable Corey Taylor Moments