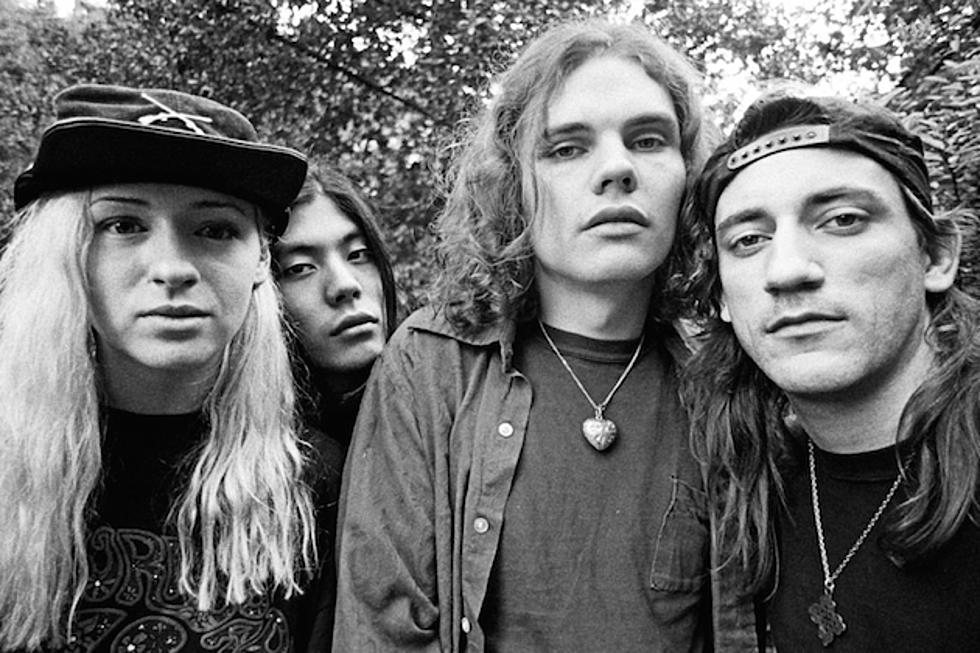 D'Arcy Wretzky Releases Texts With Billy Corgan Over Smashing Pumpkins Reunion
Virgin
Following yesterday's back and forth volleys, D'Arcy Wretzky has released a series of full text exchanges purported to be between herself and Billy Corgan regarding the impending Smashing Pumpkins reunion which is expected to be announced this Thursday (Feb. 15). The band's former bassist is not expected to participate.
Wretzky shared the text images with Alternative Nation, detailing her sadness about not being able to participate in recording sessions with the rest of the original lineup, which also includes drummer Jimmy Chamberlin and guitarist James Iha. Corgan assures Wretzky that she isn't being left out, and tells her that she'll take part in the upcoming tour however she is able, at one point drawing a parallel between Guns N' Roses use of ex-drummer Steven Adler on their "Not in This Lifetime" tour.
"Fans loved it and no one complained," Corgan says of Adler's participation. "If you play two songs a night or seven it's only gonna be great. As long as vibe is right and people are smiling."
The text from the messages can be viewed below. Wretzky says she released them "as proof" for the people who accused her of not telling the truth about what Corgan has been saying to her privately.
"Those were posted as proof to the many people who said that I was lying about ever being offered the job," Wretzky posted to her Facebook page this morning. "If one takes the time to read it carefully, one will notice that as the conversation continues, the roll [sic] I'm offered becomes ever smaller. Finally Billy says that what I deserve is a T-shirt w/my face on it. I spoke with him and asked him if there was any possible way that I'd be able to play bass on the tour and he said no."
When fans began commenting on her Facebook that she and Corgan need to get together and talk things out, Wretzky claims that they have spoken. "Folks. I have spoken with Billy," she stated. "I said to him, 'Billy. I need you to tell me: if i crush it; if i do everything perfectly, is there any chance that i can play bass on the tour?' Billy said "No." She continued in another posting, "I tried my very best to convince Billy otherwise because I never would forgive myself if I didn't do everything I could to try to change his mind. You can see where I told him that he was throwing away something precious. He does not care."
It's been nearly 20 years since the original lineup of Smashing Pumpkins have played together. The band's official website is displaying a countdown clock which will hit zero Thursday at 12N ET.
Jan. 18, 2018 Text Message Exchange Between D'Arcy Wretzky and Billy Corgan
Corgan: Hiya, thought you might want an update. We've got 13 demos so far (not sure if I will write anymore?). Work has gone really well, sounds fresh and just us being us with big drums and guitars but also the music sounds fun in a way it hasn't sounded for a long time. So it's a nice balance of today and the Soundworks days of just going for it. We start with [producer Rick] Rubin next Tuesday. Will be interesting to see what song of the top one's he likes. And so you hear it from me, we want you involved in the tour however you'd like to be involved. I think it will mean A LOT to fans if you are up onstage every night. And even if you can't play due to your shoulder stuff you can certainly sing daydream and participate in other ways. Our perspective is we want this to be minimal stress and maximum fun for you. Certainly that is our approach and it's working! So you just have to let us know how you want to be involved. Because I certainly want to represent your position properly and of course create some opportunities where you can be interviewed to explain your position in your own words cause the second we announce people are gonna ask and we will tell people what I've told you as far as the door being open and so on.
Wretzky: I still want to be involved as much as I possibly can. I was really upset I couldn't come out to L.A. to work w/you guys, & also I really wanted to work with Rick again. I'm w/my mum & I don't want to be rude to her so I will give you more details probably later today. Thank you for texting me. People have sent me stuff about you guys recording and it's made me very sad that I can't be there with you all. [Love] D*
Corgan: Well so you know, James isn't here either. It's me and Jimmy working and guitarist] Jeff [Schroeder] now too. As far as you not being involved, there was never any decision to shut you out, or make you not welcome. It's more about getting on the same page with [the] tour first and then the necessity of the song came up.
Wretzky: I heard that. I'll ask why later.
Corgan: [...] it's all moment to moment. So James is focused on his stuff which is why he isn't here. As far as Rubin he's gonna be involved a little but not the whole thing. So focus on [the] tour and I think we can find the right way to have you involved. I know speaking with Jimmy, he wants you involved so that the tour is the best thing we can all give the fans, and build for the future.
Wretzky: I should be completely healed in 4-6 weeks. I want to be involved in everything.
Corgan: We understand your enthusiasm. But we also have to balance the forces at play. I know you don't agree, nor do you have to. This is a big tour with maximum pressure. And there is no room for error. We blow this, meaning me James Jimmy Jeff band is toast [...] All good. Things are really peaceful and the music sound great. So just know we want you on tour but don't want to create this impression where because someone half pays attention thinks you you will be onstage every moment blah blah blah. That way if we say you are gonna participate you can ease your way back in with zero pressure. Yes, there will always be a crowd but without real backing in an incredibly tough environment to win in I will walk away so it doesn't matter that there will always be a club full of people wanting to hear old songs. And all I ask is you respect how important this is to get right. Hence the door being open to you being involved when no one has seen you or seen you play. I alone haven't seen you in 19 years. This setup puts zero pressure on you, all the pressure on us and if you can handle the circumstances and the pressure then the future is bright. If you can't the door will stay open anyway and the circus will rumble forward.
Corgan: For example [Guns N' Roses] tour was one of the biggest tours ever and [Steven] Adler (original drummer) would get up and play some songs. Fans loved it and no one complained. If you play 2 songs a night or 7 it's only gonna be great. As long as vibe is right and people are smiling. But when you need surgery etc. and tour starts soon and you haven't done a full show much less an arena tour in almost decades now that's a lot to put on yourself.
Corgan: I've told Beno [Pumpkins manager David "Beno" Benveniste] repeatedly if she wants to be on tour get her a bus and she can come and go as she pleases (meaning you). And with rehearsals (wherever they are gonna be, hopefully Chicago) same thing. Door is open for you to contribute. But for example, just talked to lighting designer production designer today. Show will be timed to minute and will run same set list every night due to production concerns, massive setlist, and need to be A level Broadway type show. We have to prove to [the] world we can compete at highest level or tour [will] never get out of America.
Smashing Pumpkins Albums Ranked