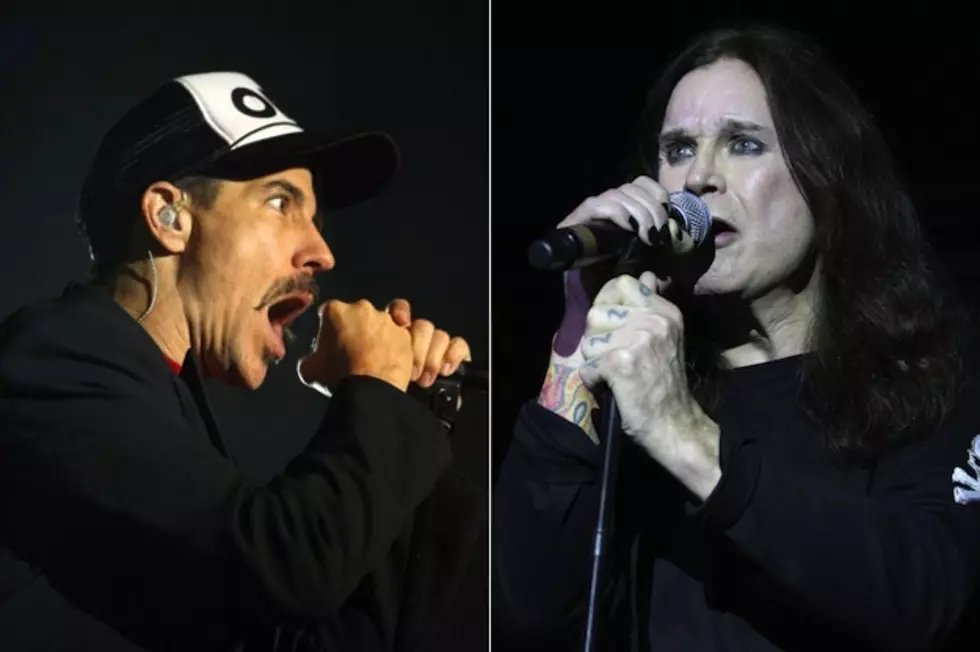 Red Hot Chili Peppers, Black Sabbath, Black Keys Confirmed for Lollapalooza 2012
A couple of days ago, we told you rumor had it that the 2012 Lollapalooza lineup would feature Red Hot Chili Peppers and Black Sabbath — and now we can confirm that the rumors were right on the money. This year's list of acts has been unveiled, and it's a doozy.
The 2012 festival, scheduled to be held at Chicago's Grant Park from August 3-5, boasts a lineup that's as hefty as it is eclectic, led off by a quartet of headliners that includes Sabbath, the Chili Peppers, the Black Keys and the newly solo Jack White. Also appearing: Florence + the Machine, the Shins, Childish Gambino, Passion Pit and the reunited At the Drive-In.
As we noted in our last report, Sabbath's Lollapalooza appearance is set to be the only American date on their problem-plagued reunion tour. In addition, it is apparent by the promotional photo of Sabbath being used on the official Lollapalooza site that drummer Bill Ward, who's been feuding with his old mates over contract terms, won't be with them when they take the stage. (Ward has been artfully cropped out of band publicity shot for the festival.) Either way, it'll mark a triumphant return for Ozzy Osbourne, whose row with the Lollapalooza folks led to the founding of Ozzfest back in the '90s.
You can have a look at the complete list of performers here, or just watch the official 2012 lineup video, embedded below. Then head over to the Lollapalooza site to pick up your tickets, but act fast — the Souvenir and Early Bird packages have already sold out, leaving only the $230 "Regular" passes available.
Lollapalooza 2012 Official Lineup Video