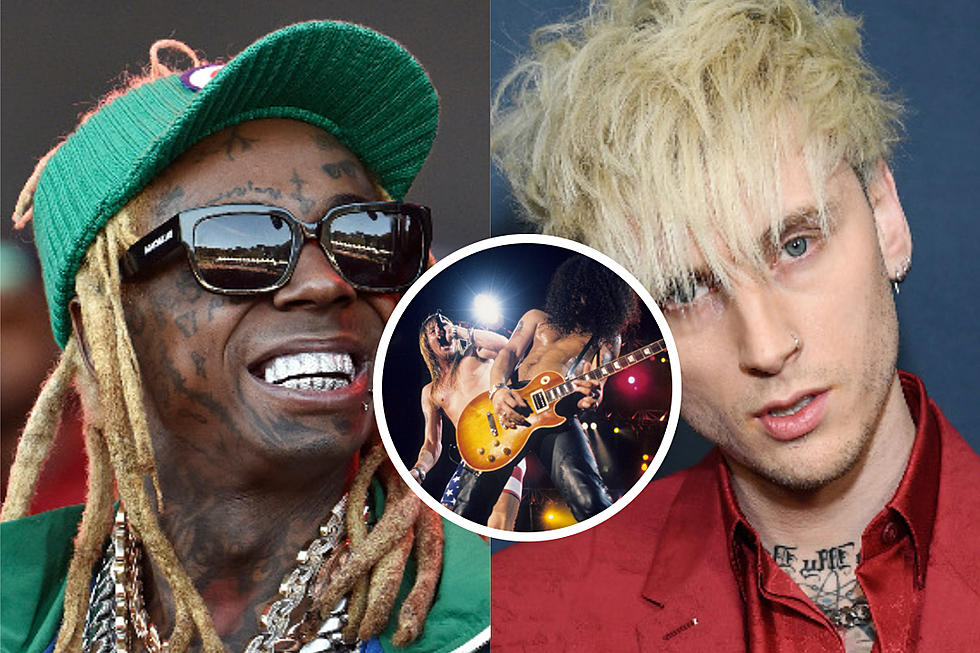 Lil Wayne Refers to Guns N' Roses' Odor in New Machine Gun Kelly Song
Tim Mosenfelder / Kevin Mazur / Dimitrios Kambouris (Getty)
Hip-hop artist Lil Wayne says he smells like Guns N' Roses at the end of his verse in the Machine Gun Kelly single "Ay!" that emerged on Friday (March 4).
We can only guess how Guns N' Roses smell.
Kelly had teased "Ay!" last month with a short excerpt in a video on social media. The number dips back into his early hip-hop vibe and will appear on his forthcoming album, Mainstream Sellout. Two years ago, MGK went pop-punk with Travis Barker on Tickets to My Downfall. Mainstream Sellout arrives on March 25.
Down toward the bottom of this post, read the lyrics to "Ay!" and watch the music video for the track.
The Guns N' Roses lyric is something of a callback for Lil Wayne. He previously uttered the same line about the Axl Rose-led rock band, saying that he smells like Guns N' Roses, in his feature on the 2011 Porcelain Black single "This Is What Rock n' Roll Looks Like."
But Wayne doesn't appear in the "Ay!" video. Instead, he's embodied in a paper cutout. As the clip concludes, Kelly praises the rapper's musical contribution. "Motherfuckin' Weezy killed that shit," MGK says.
Past Mainstream Sellout singles are the poppy charmer "Emo Girl" (featuring Willow) and the grunge-y rocker "Papercuts." Kelly recently performed a medley of tunes from the album on The Late Late Show With James Corden. Watch that below as well.
Earlier this year, MGK actually promised two albums for 2022, one being Mainstream Sellout. (It was then called Born With Horns.) He recently got engaged to actress Megan Fox. Last year, he drew the ire of Slipknot fans after beefing with the metal band.
NEW MUSIC PLAYLIST: Keep up with each week's new songs by liking Loudwire's "Weekly Wire" Spotify playlist, updated every Friday with 50 new tracks.
Machine Gun Kelly feat. Lil Wayne, "Ay!" Lyrics
I don't ever wanna fall
When I'm this high

I wrote a letter to myself
In the form of a song
I can play when the sun shines
I know better than to trust
Anything that I say to myself
When I'm this high

Ay, ay, ay, ay

I just did a interview
With my eyes closed, motherfucker
I just sparked a blunt
It looked like pyro
Only comments I see
Are the bad ones, yeah yeah
Only playlists I like are the sad ones
Yeah, I lеt the medicine in
I know it don't hеlp in the end
But I got depression again
I had a meeting at 7
I skipped it and slept in
And woke up at 7PM
I cut my hair off like Britney
Sprinkle dust like a pixie
Wipe my nose like it's itchy
I'm tatted up, I don't give a fuck, yeah

When I'm this high
When I'm this high
I just looked in the mirror
Who is this guy?
It's a full moon
Where the good shrooms?
I'm too fucking high
Sound like a good school
Higher than Jehovah
High with the heavens, you know?
Ima get pulled over
I might need a chauffeur
Lean in my soda
So Ima need a shoulder
Why you got your nose up?
I smell like Guns N' Roses
Machine Gun Kelly, "Ay!" Music Video
Machine Gun Kelly feat. Willow, "Ay!" / "Maybe" / "Emo Girl" - Live on Corden
16 Things Metalheads Really Need to Get Over
Get over it! Here are 16 things that metalheads really should get over.