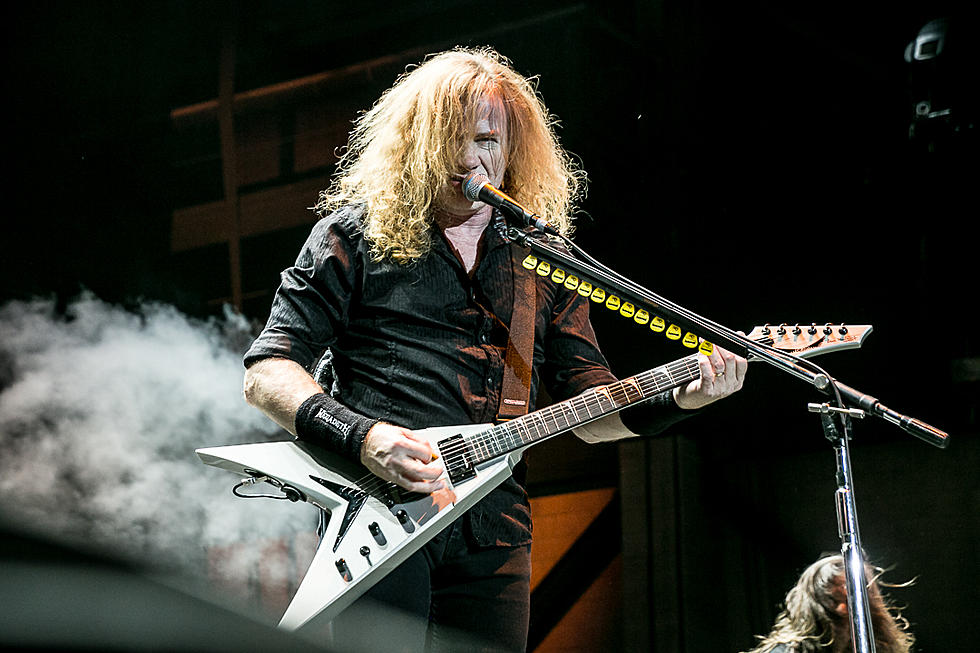 Megadeth's Dave Mustaine Wishes He Wrote the 'Pink Panther' Riff
Kathy Flynn, WickedGoddessPhotography.com
Megadeth's Dave Mustaine apparently wishes he wrote the memorable riff in "The Pink Panther Theme," the 1963 jazz number behind the original Pink Panther film. The musician identified the tune's slinky motif as an enviable creation when he went over the songs that inspired him to play guitar with MusicRadar Tuesday (June 4).
Asked for a particular riff he wished he'd come up with, the Megadeth frontman revealed the movie theme's compositional value in his mind. He added some color to the disclosure by remembering that Don Menza, the father of late Megadeth drummer Nick Menza, often performed the song's quintessential sax solo.
"Our previous drummer Nick Menza's dad actually played the sax parts on the Pink Panther song," Mustaine said of conductor Henry Mancini's famous instrumental. "That definitely would have been a cool one to write!"
However, he added that there are "tons" of other riffs he wished had written, "like all the clever ones Pink Floyd were coming out with, which are worth their weight in gold. 'Money' is great—crazy and hard to keep track of—but you could go up to anyone and sing them that melody and they'll know it!"
Going from riffing to shredding, the Megadeth guitarist-vocalist also zeroed in on his favorite guitar solo. You may be surprised that learn he gave the slight edge to the Eagles "Hotel California" over Led Zeppelin's signature saga.
"It's a toss-up between this and 'Stairway to Heaven,' as far as structure, climax and the ability to tell a story goes," Mustaine explained. "These are also songs I wish I'd written—never mind the solo, it's the entire fucking song that's brilliant. … 'Hotel California' might have the edge, because it has two players really going for it!"
Saxophonist Plas Johnson actually played the sax solo on the recorded version of "The Pink Panther Theme," as noted by the Chicago Tribune. But Don Menza clearly performed the song with Mancini's orchestra live, as seen in the below video. Menza survived his son after the former Megadeth drummer died of heart failure in 2016.