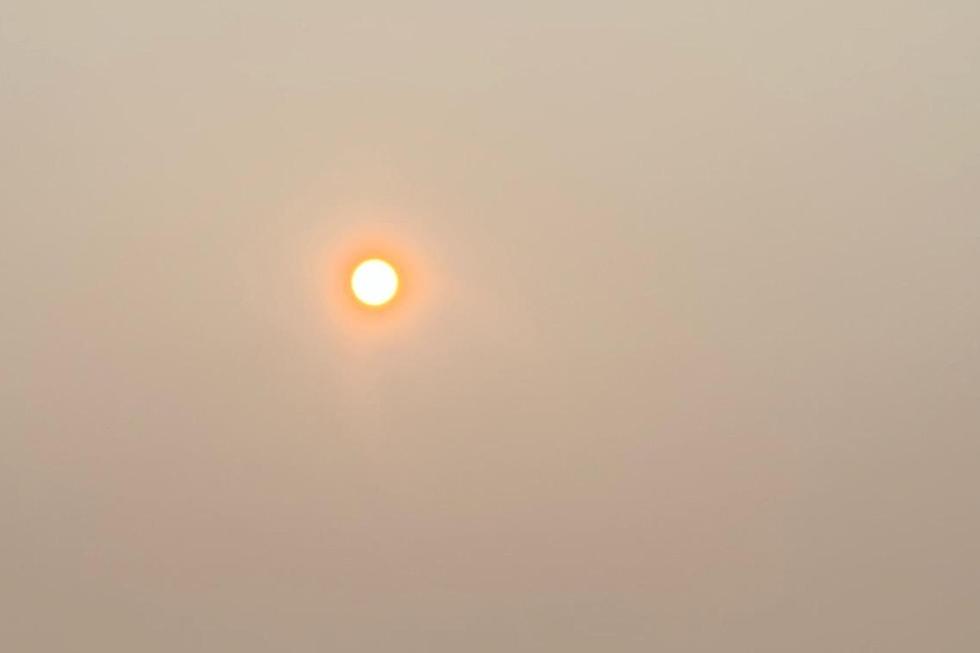 Comparing Michigan's Air Quality to the Rest of the World
Photo via JR, Townsquare Media Lansing
Air quality levels across Michigan are in the the "unhealthy" to "very unhealthy" ranges today, thanks to smoke from the record-setting wildfires continuing to blaze across Canada.
Canada has wildfires every year, but 2023 has already become the country's worst year on record. When prevailing winds in the Great Lakes come from the northwest, north, or northeast, parts of Michigan get caught in the crosshairs.
According to WILX News 10 First Alert Chief Meteorologist Darrin Rockcole in Lansing, conditions may not be as bad later in the day.
Computer models are suggesting that we will see some improvement in the air quality today, but the smoke will continue to be an issue for us. ~ Darrin Rockcole
Michigan Air Quality Levels
As of 8am on Tuesday, June 28, these are some air quality ratings from across Michigan:
Lansing: 211 (Very Unhealthy)
Detroit: 265 (Very Unhealthy)
Grand Rapids: 194 (Unhealthy)
Flint: 188 (Unhealthy)
Kalamazoo: 176 (Unhealthy)
Saginaw: 189 (Unhealthy)
Traverse City: 80 (Moderate)
Alpena: 60 (Moderate)
Marquette: 51 (Moderate)
Airnow.gov explains the numbers this way.
"Think of the AQI as a yardstick that runs from 0 to 500. The higher the AQI value, the greater the level of air pollution and the greater the health concern. For example, an AQI value of 50 or below represents good air quality, while an AQI value over 300 represents hazardous air quality."
Much of southern Lower Michigan is currently experiencing unhealthy to very unhealthy air quality conditions, as are large parts of Wisconsin, Illinois, Indiana and Ohio.
We don't typically think of Michigan's air as unhealthy or overly polluted, but here are some other cities to consider for comparison.
Air Quality Levels Around the World
Los Angeles
A lot of us think of smog when we think of Los Angeles. For comparison purposes, the current AQI in Los Angeles is 54, in the moderate category.
New York City
New York, New York is the biggest city in the United States - probably has some of the worst air, too, right? Not right now. The current AQI in New York is 65, well within the moderate range.
Chicago
Chicago's dealing with the same Canadian wildfire smoke that Michigan is. The current AQI in Chicago is 176.
Tokyo
Let's check overseas. How's the air in Tokyo, Japan - one of the largest population centers in the entire world? Its AQI is moderate, at 58.
Hong Kong
You might expect a major industrial center like Hong Kong to have impure air. Its AQI is only 19 right now - considered "good" by environmental standards.
Delhi
Delhi, India, has a well-earned reputation for air pollution issues. But even today, its moderately-polluted rating of 130 beats what we're experiencing in Lower Michigan.
Baghdad
It's hot in Iraq - but the air quality isn't too bad. Baghdad's current AQI stands at 29, in the good category.
London
The AQI in London, England, is currently 51 - putting it in the Moderate category. That's about the same as Paris, France, with a 52.
These Weather Memes Are Pure Michigan
These Michigan weather memes are the best of the best.