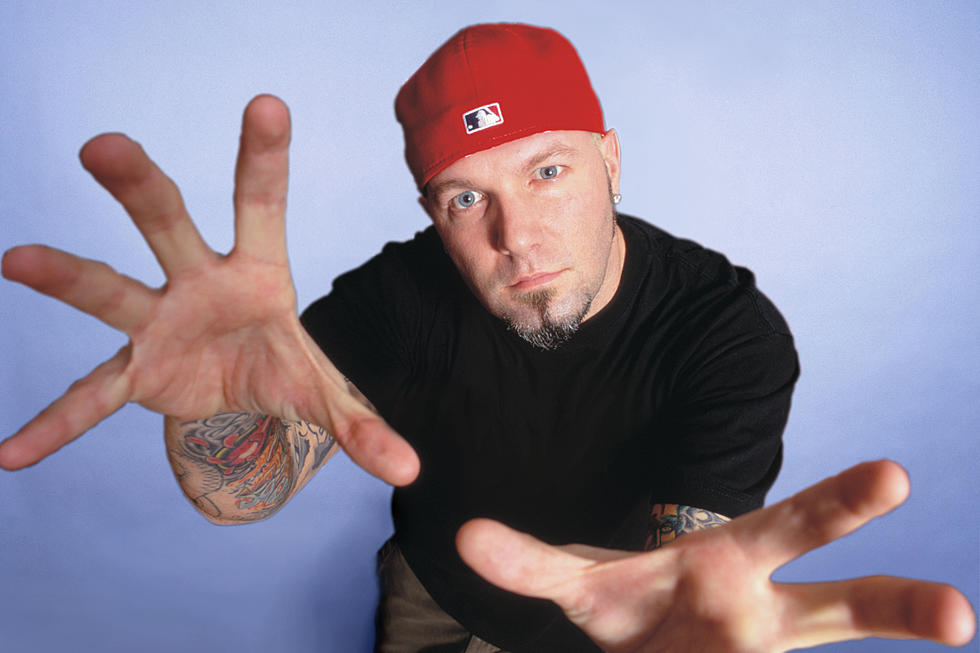 20 Nu-Metal Covers of Popular Songs
Patrick Ford/Redferns, Getty Images
People love to hear popular songs reimagined as something new, and through the years, plenty of nu-metal bands have offered up their own covers of hits.
From baggy pants to big bouncy hooks, here are 20 examples of times when nu-metal's most (in)famous players dipped their toes into popular music's waters and sank or swam.
Limp Bizkit, "Faith" (1997)

Originally by George Michael

If the public exposure of those ill-fated bathroom antics wasn't enough for the ex-Wham man to contend with, hearing Fred Durst obnoxiously whine your lyrics while his cohorts obliterate those jaunty acoustic guitars via a batshit-crazy explosion of turntable scratching and snotty aggression, certainly was. This caustic rendition propelled the Bizkit into the limelight, quickly becoming a quintessential anthem and it remains an alternative club night staple to this day.

Alien Ant Farm, "Smooth Criminal" (2000)

Originally by Michael Jackson

It takes a hefty set of cojones to cover one of the King of Pop's most iconic songs as your debut single (even if they never intended it to be), yet Alien Ant Farm's homage was an instant hit. Splicing Jackson's penchant for hooks with the band's visceral guitars and brash attitude, the track walked just the right line between reverence and tongue-in-cheek humor. Oh, and it came with a video featuring gravity-defying dance moves, backyard moshing and more MJ-related minutiae than you could shake a glittery glove at. Shamone.

Korn, "Word Up!" (2004)

Originally by Cameo

The first single to drop from retrospective album Greatest Hits Volume 1, Korn's take on this much loved '80s funk/r'n'b cut became a mainstay on alternative radio and graced many overseas music charts. Throw on some Adidas leisurewear and enjoy Jonathan Davis' raspy cries of "dial L for loooove!" as you watch the other band members roaming Tijuana — as a pack of wild dogs. In a word, it's a yes from us.

Linkin Park, "Rolling in the Deep" (2011)

Originally by Adele

Known for his ability to dovetail seamlessly between searing cleans and throat-tearing screams, Chester Bennington's unmistakable vocal embodied both the anguish and aggression that coursed through Linkin Park's music. A spine-tingling performance of Adele's "Rolling in the Deep" at the iTunes (now Apple Music) Festival saw the frontman embrace his soulful side as he (with Mike Shinoda on piano) led the rapt audience in a hair-raising singalong. No, we're not crying — you're crying.

Deftones, "No Ordinary Love" (2005)

Originally by Sade

With Chino Moreno regularly citing Sade as one of his favorite artists, it came as little surprise to see the sultry 1992 hit pop up on 2005's B-Sides & Rarities collection. Marrying atmospheric beats with Moreno's arresting vocals, it's a smoldering cover that retains just enough serrated edge to keep you uneasy. The track features Far's Jonah Matranga on back up vocals who also appears in the video.

Orgy, "Blue Monday" (1998)

Originally by New Order

Putting their industrial stamp on a synth-pop supernova, this stomping cover was perceived as Orgy's gateway to success, giving them invitations to join both the Ozzfest and Family Values lineups that year and spots on soundtracks to films such as Not Another Teen Movie.

System of a Down, "The Metro" (2006)

Originally by Berlin

This synth-drenched single was a breakthrough hit for new wave outfit Berlin back in the early '80s. Unsurprisingly, when it comes to System's interpretation, the similarities are few and far between with ska-inflected nuances, an abundance of chaotic riffs and breakdowns. You'd be forgiven for thinking this was a self-penned original given its nu-hallmarks.

Powerman 5000, "Relax" (2001)

Originally by Frankie Goes To Hollywood

Skyscraper defying hair. Naff all-black matching PVC ensemble. Highly questionable dance moves. Ladies and gentlemen, we give you Spider One. Founder / frontman of Powerman 5000 aka PM5K (sigh) in case you needed a refresher. This lot are probably most well known for appearing on the Zoolander soundtrack with their cover of "Relax." The video also features a cameo from House of Pain's Danny Boy who is on hand offering up, ahem, insightful observations such as, "I'll tell you now, kid, we don't play / I'm up all night, sleep all day."

Papa Roach, "Gouge Away" (2002)

Originally by The Pixies

You wouldn't expect to find an alt-rock song teeming with biblical references lurking within a Papa Roach album, but that's exactly what went down on Lovehatetragedy. Among the bucket loads of angst and frustration sits Papa Roach's spin on Pixies' "Gouge Away." Never veering too wildly away from the track's original blueprint, there's some uber-impassioned vocals thrown in for good measure.

Mudvayne, "King of Pain" (2007)

Originally by The Police

Inspired by his then-recent separation from his first wife, one can only imagine what Sting's reaction was / would be to this bunch of painted-up misfits covering The Police's infectious new wave ditty. That said, there's an undeniable reverence at play here for the melody-centric original — we think Sting might actually be onboard with this one.

Coal Chamber ft. Ozzy Osbourne, "Shock The Monkey" (1999)

Originally by Peter Gabriel

Love song or a working metaphor for jealousy, we're not entirely sure. This Peter Gabriel cover landed Coal Chamber smack-bang in the "so shit it's actually good" category. Taken from 1999's Chamber Music, Ozzy Osbourne was recruited to lay down guest vocals, and he also appeared in the song's video. Power chords ahoy. And it also featured a monkey.

Disturbed, "Land of Confusion" (2006)

Originally by Genesis

Genesis might have had Phil Collins but did their Cold War-era swiping on "Land of Confusion" have any "UH! UH! UH!" chorus grunts? Disturbed also had Spawn creator Todd McFarlane on hand to whip up an elaborate animated video — which represents a world driven by corporate greed and lust — to accompany the cover. According to David Draiman, the song was "absolutely nothing like us and making it our own." It's all very "A Moshpit on Wall Street."

Seether, "Careless Whisper" (2009)

Originally by George Michael

The smooth, safe sax action of the original ballad is replaced with plenty of tortured cries and distorted electric guitars with Shaun Morgan at his pensive best. Granted, the 8-bit arcade game-type video that goes alongside it is a bit jarring, but the plethora of '80s references within are entertaining to behold.

P.O.D, "Bullet the Blue Sky" (1999)

Originally by U2

One of the more overtly political songs in the U2 canon, Bono's rant about provocative U.S. foreign policy is given the P.O.D treatment via shitloads of squealing reverb, layers of distortion and the odd deafening yell from Sonny Sandoval. You can find it on third studio album The Fundamental Elements of Southtown.

Machine Head, "Message in a Bottle" (1999)

Originally by The Police

The story of an island castaway looking for love, this infectious reggae-drenched finger-tapper went on to be a universal hit for The Police chalking up chart spots across the globe. Arguably, it's spirited cry is not quite as jolly when placed in the clenched fists of Robb Flynn. The overriding angst surging through this Machine Head cover will have you scrawling out that S.O.S. and sending it. But if you're interested, you'll find the Bay Area boys' interpretation on 1999's The Burning Red.

Dope, "Rebel Yell" (2003)

Originally by Billy Idol

HIM, Children of Bodom, Drowning Pool, Black Veil Brides. They've all tried their hand at this hard rock classic. Not to be outdone, Dope said "hold my beer" and steamed in melding heavy metal, sleaze and industrial like some sort of dirty ménage a trois to create this version. Their cover of Dead or Alive's "You Spin Me Round (Like A Record)" is worth a punt, too.

Incubus, "Still Not a Player" (2000)

Originally by Big Pun

Incubus remixed this 1998 single by Big Pun, and it appeared as a collaboration between the two on the 2000 compilation album Loud Rocks. Sadly, it was released seven months after the death of the prolific East Coast based rapper / MC. An example of how rap and rock can successfully collide to create some magic.

Korn, "Another Brick in the Wall" (2004)

Originally by Pink Floyd

While the Bakersville natives' downtuned swagger leant itself perfectly to covering an '80s funk-pop banger, the same cannot be said here. Pink Floyd's original prog rock masterpiece, "Another Brick in the Wall," was chock-full of intricate riffs and perfectly controlled transitions — so hearing these near-obliterated by a load of sludgy distorted guitars did not / may not sit well with many. The cover — including all three parts — features on 2004's Greatest Hits Volume 1 compilation album.

Staind, "Bring the Noise" (2000)

Originally by Public Enemy

Staind hooked up with Limp Bizkit's Fred Durst for this cover, although Anthrax actually beat them to the punch having already put their thrash stamp on a collaboration with Chuck D. back in the early '90s. The nu-metallers grabbed this one by the proverbial balls and gave it the rapcore treatment. Whether they castrated it in the process remains open to debate. This version appeared on the Take a Bite Outta Rhyme: A Rock Tribute to Rap compilation and the 1999 album Dysfunction.

Nonpoint, "In The Air Tonight" (2004)

Originally by Phil Collins

Originally appearing on 2004 release Recoil, Nonpoint's take on Phil Collins' iconic "In The Air Tonight" went on to feature in the film and soundtrack for Michael Mann's remake of Miami Vice. That drum fill will never be beaten, and vocally it can't match Collins' emotion, but as covers go it stands up.