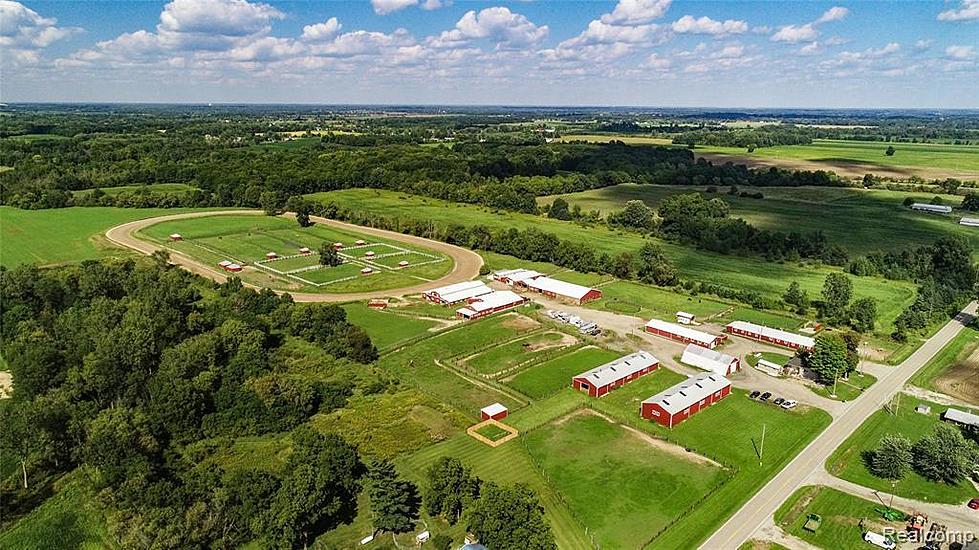 This Durand Home Is A dream For Motorcycle Fanatics And Horse Lovers
Real Comp via Red Fin
If you love flat track motorcycle racing, riding horses, or both - I have found the house for you in Durand, Michigan. It may not be the newest home on the market, but it sure does have some cool features.
Full disclosure I don't know much about riding horses or motorcycles. I should know a lot more than I do about horseback riding. Early on in life, I rode a lot. My days of horseback riding came to an end when my sister Tuesday was bucked off of a horse by the name of Sanka Sweetie. She broke her arm, so my parents gave us cigarettes to play with instead of horses.
All kidding aside, this home in Durand has all of the amenities for riding horses or motorcycles. Not to mention it is super private, this home sits on 39.50 acres. Trust me, no one is going to hear you tearing up the track at midnight. The listing is described as follows,
Incredible equestrian income opportunity featuring 76 stalls on almost 40 acres! This property contains 3 living spaces including a 2 bedroom main house, a barn apartment, and a 3 bedroom manufactured home.

The main home was recently remodeled and has a beautiful kitchen and spacious full bath. The barn apartment was remodeled in 2021 and has one bedroom and one full bath. Facility features include 9 outbuildings, ½ mile track, 22 paddocks, and one large pasture.

Buildings include 4 horse barns all with hot water, a 60'x109' indoor arena, 2 storage buildings, and a detached garage/workshop. Other equestrian amenities included an indoor horse pool, indoor hot walker,15 run-in sheds,3 manure bays, and a 10-acre hayfield. Property is currently running as a business and can continue to do so for the next owner.
If you have dreamed of getting away from the hustle and bustle of everyday life - you could certainly do that here at the price of $549,000. Does anyone want to go in on a racehorse with me?
Durand Home Is A Motorcycle Or Horse Lovers Dream