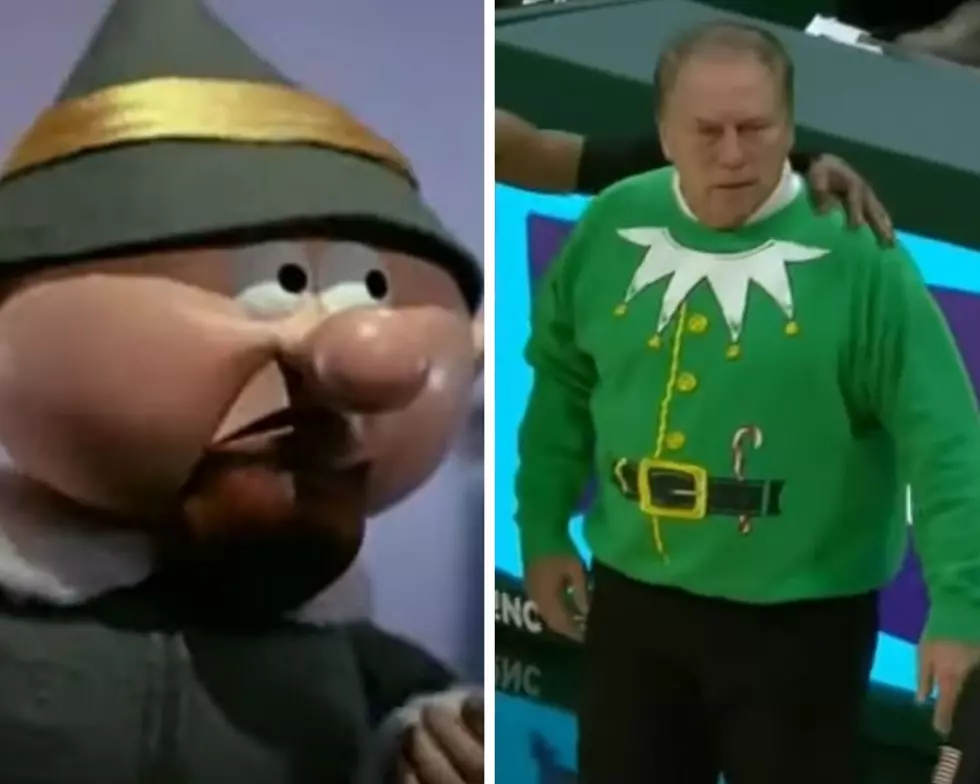 Who Was Madder? Tom Izzo Or The Mean Elf From 'Rudolph'?
YouTube/Canva
When Tom Izzo received a technical foul while wearing an elf sweater, it was hard not to see his resemblance to the elf who tormented Herbie.
Spartan Coach Tom Izzo Became Enraged At The Referees And Lost His Cool
Forget 'Good Will To Men', 'tis the season to yell at the refs.
The hot headed coach probably was hoping Wednesday's game with Oakland University was going to be a snoozer, so the turbulent coach dressed up as an elf as a nod to the festive season.
But nothing was festive about the game, and the Spartans found themselves in a tight game with the Pioneers from Oakland.
After baiting the refs about Oakland's guards reaching in on his Spartan ball handlers, Izzo went ballistic and went after the officials late in the first half.
The refs were not amused and T'd Tommy up, but seeing him get angry in an elf sweater made the temper tantrum twice as delightful.
The Elf Sweater Made Izzo A Doppelganger For The Mean Head Elf From 'Rudolph'
What made the incident twice as hilarious is that with the green outfit, Izzo became the spitting image of the mean elf from the classic Christmas special Rudolph The Red Nosed Reindeer. Don't believe me? Check it out.
After the game, Izzo explained in the press conference following the game about why he wore the sweater and explained the sweater wasn't nearly as ugly as how the Spartans played against their Horizon League opponents.
But credit where credit is due, so let's give props to the Pioneers who outhustled the Spartans all night.
And once again, we're reminded that the chief elf in Rudolph is a giant a-hole.
Michigan State's Short List For Tom Izzo's Eventual Replacement
We've put together a short list of names for Michigan State to consider when Tom Izzo eventually elects to hang up his clipboard. The list includes two of Izzo's former (and favorite) players, two of his former assistants, one Spartan basketball legend from the Jud Heathcote era, one Lansing-area basketball great (with a Spartan-friendly surname), one up-and-comer from a mid-major, and one dark-horse candidate from another Power Five program.