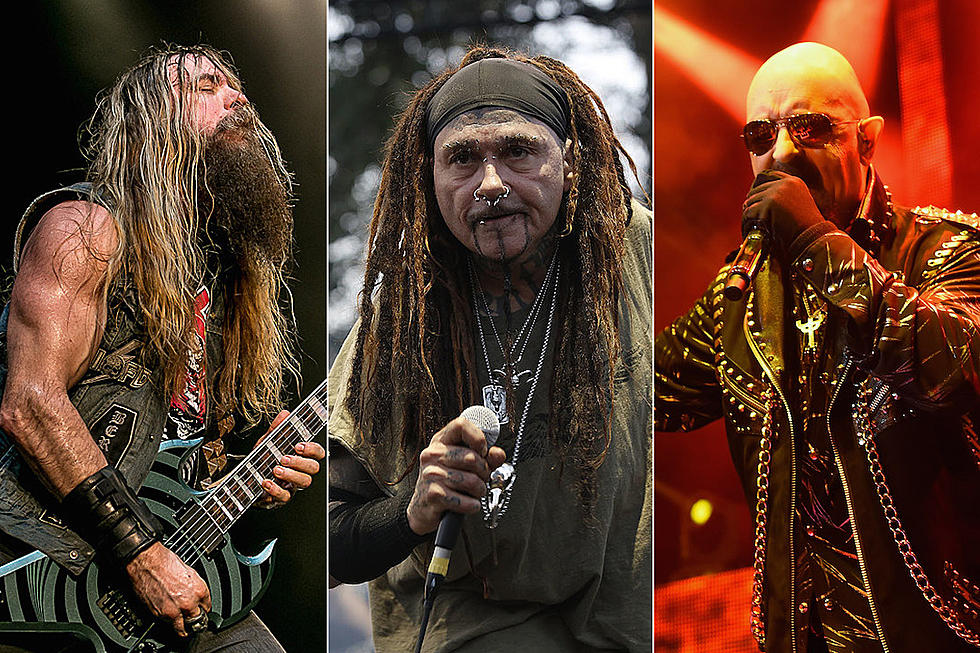 2018's Best Metal Songs… So Far
Kathy Flynn, WickedGoddessPhotography.com / Alex Kluft, Loudwire / Ethan Miller, Getty Images
As the year rolls on, it's tough — almost impossible — to stay on top of everything that's coming out in the metal world. Dozens of new releases hit each week and sifting through them all to find the best songs is almost a full-time job in and of itself. No worries: we're doing the heavy (metal) lifting.
Here, you'll find a running tab of the best metal songs 2018 has to offer from legends like Judas Priest all the way to the darkest corners of the underground with varying degrees of extremity. No matter what your metallic preference, there's something here for you.
Check out all of the songs below and take them wherever you go by following our Spotify playlist of 2018's Best Metal Songs... So Far.
"Kai Tangata"

by Alien Weaponry

Like a cross between Sepultura's Roots and some modern djenty riffing, New Zealand's Alien Weaponry dive into their warrior culture on the mosh-intensive "Kai Tangata," which translates to "Eat People." Tribal gang chants and evocative clean singing add dynamic splashes to this rhythmic juggernaut that's always in a state of flux between lush passages and low-end chugs with a playful arrangement.

"Fuck Love"

by All That Remains

The next All That Remains album won't be out until 2019 according to the band, but they've left fans with something to chew on this year at least. "Fuck Love," the debut single off the forthcoming record, is three minutes of uncompromising brutality. There's no clean singing and Phil Labonte tears his throat open on the track's closing scream.

The Tomi Joutsen era of Amorphis' career has been incredibly fruitful and on "The Bee," the band appears to be taking their next evolutionary step. None of the sounds here are entirely new, but they're presented in such a fresh fashion that Amorphis sound re-inspired after treading on a fairly similar path for their last handful of albums. This truly kaleidoscopic track plays to the band's melodic strengths, using one central melody as the focal point from which everything else blossoms.

"Survive Sunrise" starts off with timid, soothing clean tones before an eruptive burst of distortion and cascading melodies. Despite its dark overtones, this ASG track maintains a mostly uptempo swing which drives the energy, segueing perfectly into the hyper-melodic bridge after a sing-song chorus.

"A Stare Bound in Stone"

by At the Gates

Even without founding guitarist Anders Björler, At the Gates are soldiering on and sounding as feral as their earlier days. "A Stare Bound in Stone" eschews infectious melodies that are typical of the band, letting the burly rhythm work do the lifting here. The melody is more underlying, making its way into dissonant sustained chords, evoking a nightmarish atmosphere.

"Bartzabel" represents one of the furthest deviations from the typical Behemoth template on I Loved You At Your Darkest. This dismal offering is anchored by pounding floor toms as heavy, listless dissonance fades in and out, introducing a new, contemplative side of Behemoth. Nergal's ritualistic clean singing adds the perfect touch, no matter how much fans may cry foul at this new element.

"All That Once Shined"

by Black Label Society

'Grimmest Hits' is a self-evident title. Black Label Society conjure up some of the best work of their career on their new record, though almost all of the album's tracks have a dark cloud looming above them, namely "All That Once Shined." It's doom 'n' gloom right from the start and Zakk Wylde lurches with sorrow-filled leads and riffs highly indebted to Father Iommi and the rest of Black Sabbath.

"Condemned to the Gallows"

by Between the Buried and Me

"Condemned to the Gallows" dropped like a damn atom bomb this year, with BTBAM telling fans that their heaviest side was sharpened. The six-minute opener to Automata I is super dynamic, getting into Between the Buried and Me's celebrated theatrical, progressive and soothing attributes. Just when you thought Paul Waggoner couldn't keep writing beautiful legato solos, "Condemned" gave fans the eargasm they were searching for.

Canada's preservers of true heavy metal, Cauldron, have arrived at their fifth album, New Gods. Despite the title, they're still worshiping the old gods (namely Dokken) and on "Letting Go," they cut anthemic moments with dreary overtones. For newcomers, Jason Decay's timid vocal presence may present a hurdle, but if you're able to make the leap, Cauldron are an exciting band to follow with a style all their own in a sea of traditional metal revival.

U.K. sludge barbarians Conan have dished out another noteworthy offering in Existential Void Guardian. "Vexxagon," the album's standout track is a certifiable bruiser, trudging along at a knuckle-scraping mid-tempo crawl, backed by a storm of sledgehammer riffs. There's a hardcore bent to this band, especially vocally, which takes the sleeves off their beatdown moments.

Craft's White Noise and Black Metal is a morose slab of crypt-born volatility. Like a modern version of a pick-your-favorite Darkthrone classic, it embodies everything that the second wave of black metal stood for. "Again" hinges on an unforgiving mid-tempo, mold-doused riff and nightmarish dissonance that genuinely makes this genre feel terrifying again.

At the beginning of the year, prog lords Cynic announced their return via a single song and not much word as to what lies ahead, though fans presume a new album is on the horizon. "Humanoid" signals a new era of the band where Paul Masvidal is carrying on without skinsman Sean Reinert, the only drummer that has ever been in the band's ranks. Put your apprehensions at ease because this is textbook modern day Cynic and a promising preview of what's to come.

"Satan in the Wait"

by Daughters

After a eight-year hiatus from making new music, Daughters returned in 2018 with this piece of post-metal glory. "Satan in the Wait" is pure audio terror following in the footsteps of their 2010 self-titled album, creating unnerving soundscapes with cinematic atmosphere. Don't listen to this thing in a tight space; you'll feel like you're in a padded cell by the mid point of this seven-minute cut.

"Tomorrow's No Concern"

by Dee Snider

With Twisted Sister in the rearview mirror, Dee Snider is moving ahead with his second solo album since the dissolution of the iconic hair band. With this album, he's doing it all For the Love of Metal and on the album's lead single, "Tomorrow's No Concern," Snider sounds fresh and current with his ageless pipes atop a foundation of scorching riffs and straight ahead, bona-fide heavy metal.

"Seal the Tomb Below"

by Deicide

Swapping guitarist Jack Owen for Monstrosity's Mark English, Deicide return from a five-year drought with Overtures of Blasphemy. The album should please fans of the new and old eras as songs like the infectious yet brutal "Seal the Tomb Below" surge with the familiar power of the early days and the aggressive lead playing present on latter-day albums like The Stench of Redemption.

Cardinal Copia has debuted with a bang thanks to Ghost's "Rats" and its dazzling music video. Ghost are proving to be a band that can do no wrong, and "Rats" is another hit from the Swedish act.

Total Death worship and proud of it, Gruesome have arrived at their second full length, Twisted Prayers. Kicking off this record is "Inhumane," which takes a stab as Chuck Schuldiner's musical progression heard on the Spiritual Healing album. Rarely is such intentional worship executed on this high a level and is convincing enough to fool any fan into believing they've just heard a lost Death gem.

"Northern Chaos Gods"

by Immortal

When Immortal officially parted way with iconic frontman Abbath, fans wondered if the legendary Norwegian outfit would be left as a shell of their former self. The Northern Chaos Gods title track quells these fears with trademark icy riffing and a biting production that whips like the winter winds of Demonaz and Horgh's homeland.

"Nothingness of Being"

by Hate Eternal

Hate Eternal, known for their blinding speed, slow it down (comparatively at least) on the Upon Desolate Sands track "Nothingness of Being." Bulldozing riffs and concussive drum fills propel this one through the trenches and it's hard to ignore Rutan's Morbid Angel-like touch, which should certainly make fans a bit more vocal about the desire for his return to the Florida death metal legends.

"Lightning Strike"

Judas Priest

No Judas Priest greatest hits compilation would be complete without the inclusion of "Lightning Strike" right alongside all-time classics in "The Hellion/Electric Eye" and "Freewheel Burning." It demonstrates that age has done nothing to deter Priest from remaining true to their brand, crafting an album that surges with power and artfully highlights their skills as master songwriters with nuanced embellishments bringing out the best in Rob Halford, Glenn Tipton, Richie Faulkner, Ian Hill and Scott Travis.

Finland reigning melodic death metal lords of the swamp, Kalmah, are back with Palo. The group can always be counted on to deliver a highly infectious cut on each album and this time "Evil Kin" checks off that box. It's a mid-tempo galloper that breaks free with striding melodies and despite the lyrics being conveyed through guttural growls, it's still easy to sing along.

For over 20 years, Kamelot have proven that the U.S. can contend with Europe when it comes to power metal. On their 12th album, The Shadow Theory, the band's technically-minded brand embraces a conceptual theme, and "RavenLight" manages to work in a simple choral hook that places songwriting above prowess in the end.

"Shipswreck"

by Legend of the Seagullmen

Close your eyes, hit play on "Shipswreck" and let the rowing rhythms of this Legend of the Seagullmen track take you further out to sea. This song perfectly encapsulates what this band is about with over the top nautical lyrical lore painting a picture of the seafaring wonder held within. "Shipswreck" combines intensity with humor: quirky synth lines give the song a cheeky feel.

Whether or not you recognize the title, we guarantee you've heard Bach's "Toccata and Fugue in D Minor." Now take that unsettling organ tone and apply it to extreme metal -- you've got "Republic" by Lychgate. The opening cut from The Contagion in Nine Steps sounds like modern chamber music mixed with some Opeth and Paradise Lost, so if you're into eclectic death metal that's slightly blackened, check this out.

Air raid sirens kick off this two-minute album opener from Marduk, establishing the band's usual World War II themes immediately. "Werwolf" rides a steely gallop with a riffing hook and descending chord progression over the chorus that imbues a sense of giddiness a la Destroyer 666. Simple, direct and lethal.

"Twilight Zone"

by Ministry

Al Jorgensen does some of his best work when he lets the energy subside, layering loops and samples over each other at a crawling pace. "Twilight Zone" firmly plants Ministry's sound in the late '80s / early '90s and, while the opening minutes may be trying to some listeners, it's a song that reveals its brilliance as the track continues. Uncle Al even manages to rein in a harmonica lead on "Twilight Zone" as his slice and dice mastery behind the board knows no bounds.

"Oh So Psuedo"

by Napalm Death

Okay, technically this isn't a "new" Napalm Death song as it was a leftover from the Apex Predator - Easy Meat sessions in 2014. "Oh So Pseudo" was unveiled this year as part of a new compilation record from Britain's grind progenitors and, as is the standard, it totally rips. It's less blast-reliant than most Napalm songs, utilizing battering rhythms and a nice pendular groove to serve as the foundation for Barney Greenway's asylum-worthy barks.

"Tsar Bomba"

by Necrophobic

Necrophobic have always flown a bit under the radar despite their continued level of excellence from album to album. The Mark of the Necrogram highlight is easily "Tsar Bomba," which draws parallels to Dissection's affinity for frozen melodies and ominous atmospheres. Gang chants dominate the chorus, an instantly memorable aspect of the song, while the more menacing aspects lie in the galloping rhythms and sinister melodies.

"War Zone" is arguably the most intense track Of Mice & Men have authored. Relentless in its aggression, this Defy track finds the band straying from breakdowns which have a habit of dominating their sound, ripping the throttle with a rhythmic attack that's thrashier than their prior material. Vocally, Aaron Pauley remains a dual threat with throat-ripping screams and his soaring cleans, restraining from giving the song a sense of relief until the bridge hits.

"Army of Cops"

by Pig Destroyer

Head Cage is the first Pig Destroyer album to feature bass and the low end, which hadn't been sorely missed, adds a new dynamic to these grind stalwarts. "Army of Cops" is noticeably less frantic than most of the band's catalog, opting for more straightforward and digestible songwriting on the back of some huge grooves. Scott Hull's still got it!

"To Hell or the Hangman"

by Primordial

For over seven minutes, Primordial manage to milk essentially one riff that makes up the Exile Amongst the Ruins track "To Hell or the Hangman" — and it's awesome. This song is a melodic galloper that provides an epic, urgent feel and a sense of imminent danger which emanates from Alan Averill's pained voice. Primordial have always approached their writing with a bit of a storyteller vibe and this single-riff tactic works staggeringly well.

"Of Unworldly Origin"

by Revocation

Revocation's brand of tech-death has taken many shapes over the last decade and they continue to make strides with "Of Unworldly Origin," the first single off the band's seventh album, The Outer Ones. The track rests on a firm death metal foundation of trench-widening grooves and blast beats with touches of futuristic thrash through sci-fi chords and sinister black metal. Revocation are at their best when they do a bit of everything as evidenced here.

"Where Owls Know My Name"

Rivers of Nihil

Rivers of Nihil embody the term "progressive." Not content with the typical harsh vs. clean trade offs both musically and vocally, the group expands their sound to include tender saxophone-driven moments on "Where Owls Know My Name" along some psych-tinged passages that texture otherwise bottom-heavy moments of their progressive death metal brand.

"The Doomsday Clock"

by Satan

More than three decades have passed since Satan issued the New Wave of British Heavy Metal classic Court in the Act and they haven't aged one bit... sonically, at least. "The Doomsday Clock" is ageless heavy metal that retains the old feeling through thinner production values that fall in line with underground releases of the '80s rather than the super slick and beefy productions of today.

"Cottonmouth" is a dense three-minutes of feral extremity from Tallah. The loose arrangement and deranged vocal performance make this song completely unhinged with beatdown moments and imaginative drumming (naturally — that's Mike Portnoy's son behind the kit).

"The Lament"

by Tribulation

Sweden's Tribulation are the buzz band of the underground and on their fourth album, 'Down Below,' they seem poised for a breakout. The album's opening track, "The Lament," is their best song to date, establishing the ghastly tone for the record with twisted, eerie melodies lying over rumbling bass lines and beneath the hook-laden gravedust rasp of frontman Johannes Andersson.

"Stranger Tonight"

by Uncle Acid & The Deadbeats

Uncle Acid & The Deadbeats have developed a faithful cult following since issuing their debut album in 2010. Armed with some of the strongest riffs of the decade, they've drifted from their doomier sound to garage rock with powerful melodies and dominant powerpop hooks, as evidenced by the lead single "Stranger Tonight."

"On My Teeth"

by Underoath

Returning with their first new album since 2010, metalcore heroes Underoath kicked fans in the teeth with their debut single, "On My Teeth." The song is predicated on nervous tension that's immediately laid out with moody synths and claustrophobic drumming that makes the explosive moments of "On My Teeth" so gratifying.

"Lead Us Into War"

by Unleashed

Swedish death metal icons Unleashed continue to extend their legacy. The Hunt for White Christ, their 13th album and fourth under one concept, opens with "Lead Us Into War," a gate-smashing track with sinister melodies and bruising riffage.

"Warrior Queen"

by Visigoth

They've got the look, they've got the sound and they've got the songs. Visigoth are among the newer crop of bands paying homage to the New Wave of British Heavy Metal and American speed metal icons of the '80s and "Warrior Queen" seethes with the same spirit. Bouncy riffs, tasteful leads, an old school production and plenty of gang chants define the 'Conqueror's Oath' opener where Visigoth reel you in for the long haul.

"Sacred Damnation"

by Watain

Five years removed from the somewhat experimental The Wild Hunt, new age black metal tyrants Watain have reclaimed their more historic sound as evidenced by "Sacred Damnation." It's classic black metal through and through, fueled by blast beats and wicked guitar leads with a couple of dramatic, quick-strike pauses in effect to further pummel the listener.

"Storm the Shores"

by White Wizzard

War and the sense of battle and victory is a prevailing theme in heavy metal and White Wizzard use it to their advantage on the classic sounding "Storm the Shores." You'd be forgiven for thinking that this was a lost gem from the early '80s, especially with Wyatt "Screaming Demon" Anderson in the band again.

Stranger Fruit thrusts Zeal & Ardor into the spotlight once again and with a little more rigor, riding a more focused and unified sound. The band's mastermind Manuel Gagneaux demonstrates songwriting maturity on "Waste," a song that magnifies the juxtaposing aspects of the band's sound while showcasing them in a synergistic light. Nightmarish screams and swirling dissonance are grounded by his soulful, evocative croon, making the upstart band worth the hype.