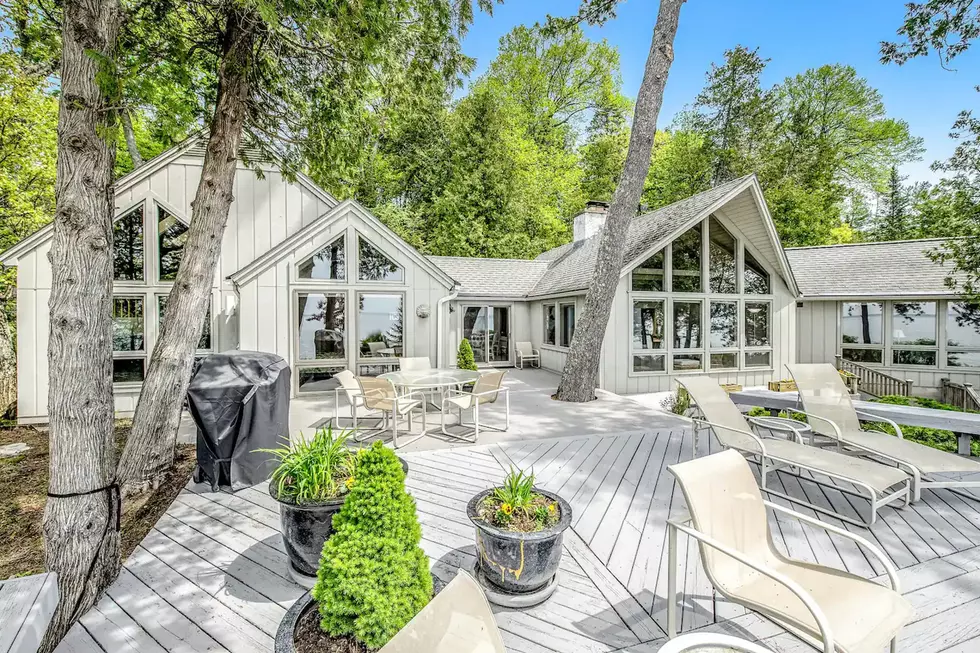 What a View – Northern Michigan Airbnb is the Perfect Lake MI Getaway
Airbnb
Whether you want to get away during the hot summer months or the chilly Michigan winters, this Airbnb in Harbor Springs is perfect for both. However, once you see the beautiful Lake Michigan views, you'll probably prefer spending some time here during the summer.
Aisling on the Water is a unique-looking home that sits on Lake Michigan. If you're for a place that offers the best lake views, you found it. The patio on this place is killer. You'll never want to get up from your comfy lawn chair with views like this.
Aside from the awesome views of Lake Michigan from nearly every room, I really love how open and bright Aisling on the water is.
How Much Does this Airbnb Cost to Rent?
While this place is beautiful, it's really expensive. You can't book it for a couple of days or even a long weekend. You have to book a minimum of 7 nights. If you wanted to stay for 7 days in the middle of July, plan on spending around $7,000. It wouldn't be a problem if you had a large group but unfortunately, this place only sleeps 4 people.
If money is no option, I'd say go for it. However, that's not the case normally. I've found other places that are similar for way less money. It's hard to beat that view though.
Booking With Family and Friends is the Way to Go
I love nothing more than getting away with friends for a nice long weekend in an awesome and unique rental property. This year alone, we've rented places in Sault Ste. Marie, Bellaire, and Gatlinburg, Tennesee. It can be a little pricy if you only go with your significant other, that's why I highly recommend going with a group of friends. It's a heck of a lot cheaper.
Harbor Springs Airbnb With Lake Michigan View
This beautiful home provides plenty of beautiful Lake Michigan views.
Chalets on Lake Michigan
The resort is spread on 36 acres directly on Lake Michigan with a private beach, fishing pond, 2 swimming pools, a wading pool for kids, shuffleboard, basketball, horseshoes, and tennis.
This Log Cabin Airbnb is Only 22 Steps From Lake Michigan
This Airbnb can accommodate 12 people, comes with a private beach, and it's Only 22 Steps From Lake Michigan
Enchanted Treehouse on Lake Michigan
There's treehouse rentals and then there's this place. Trees, beaches, and endless sunsets. You get it all with this unique treehouse stay.
Unique A-Frame Airbnb Near Lake Michigan
Built in 2021, the Harbert Hideout is located on a quiet street surrounded by nature.