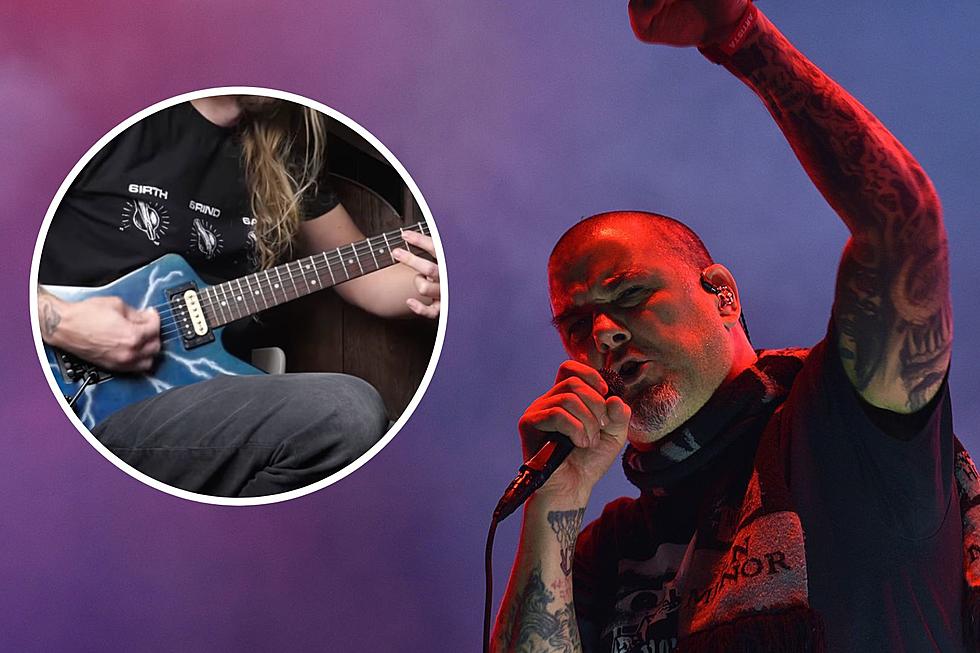 Guitarist Ola Englund Reveals Philip Anselmo Considered Him for New Pantera Lineup
YouTube: Ola Englund / Guillermo Legaria Schweizer, Getty Images
In a new vlog uploaded on his YouTube channel, guitarist Ola Englund (The Haunted, Feared, ex-Six Feet Under) recaps the headlining Pantera show he saw in Hamburg, Germany and reveals that vocalist Philip Anselmo told him he was one of the names the band considered when putting together their new lineup.
Who Is Ola Englund?
Englund is a 41-year-old Swedish-born guitarist, best known for his work with The Haunted as well as being a content creator who has over 800,000 subscribers on his YouTube channel. He's a rather prolific musician, also keeping busy with Feared, Scarpoint and his solo venture. For a brief period (2012-2013), he was a member of death metal group Six Feet Under and played on the band's Unborn album.
Last year, Zakk Wylde, who landed the Pantera guitar role, told Englund that he had been watching YouTube videos to help learn all the songs and that he even referenced one of Englund's own videos when figuring out the Far Beyond Driven favorite "Becoming."
Ola Englund on Philip Anselmo Considering Him for Pantera
In a new YouTube video, Englund recaps his time at Pantera's Hamburg show, from the drive to the venue to hanging out with the band and crew before the show, wrapping up with some final thoughts and reflection.
At the end, the guitarist recalls his conversation with Anselmo and the unforgettable moment that transpired.
"[Anselmo] seems to be in such a great space right now. I felt a really good energy from him when I was talking to him. He told me I was a great guitar player, and he said something that I'm going to cherish for the rest of my life. He said that my name was on the list when they started talking about this Pantera tribute thing," Englund reveals.
In a bit of disbeliefs, he wonders out loud, "My name was on the list? Wow."
"Obviously there are so many better choices and alternatives but just knowing that I was considered — like even if I would have been on the bottom of the list [it] doesn't matter — it's unbelievable to me. What? Tell that to 15-year-old Ola. It doesn't make any sense," he says.
Praising Wylde, he adds, "Zakk was on absolute fire at the gig. He was just spitting leads and he was showing he was the only valid choice for this job. It was so freakin' good."
What Ola Englund Sounds Like Playing Pantera
There's quite a lot of Pantera content on Englund's channel, including videos of him pursuing Dimebag Darrell's guitar tone and tearing through 10 of the band's most memorable riffs.
Watch both videos below.
Ola Englund on Replicating Dimebag Darrell's Guitar Tone
Ola Englund Plays 10 Pantera Riffs
READ MORE: Photos + Video - Zakk Wylde Shows Off New Guitar That Pays Tribute to Iconic Dimebag Darrell Guitar
Who Else Was Considered for New Pantera Lineup?
It's not known exactly how many guitarists Pantera considered for the celebration run that began in late 2022, but we do know that Alter Bridge/Creed guitarist Mark Tremonti was a possibility.
Last year, Tremonti said "Hell no," when asked if he would ever step into Wylde's shoes if given the opportunity to play with Pantera, also revealing that bassist Rex Brown floated the idea to him years ago at a festival.
"He looked at me and said, 'You should put your name in the hat,' and I was like, 'No way, man!'" You have to be a certain type of personality to take on that role," the guitarist explained, noting, "It's not just about the playing, it's very much the personality, and Dime had a huge presence. Put it this way, nobody's gonna flip off Zakk Wylde onstage, they very well might do that to me, but there's just no way I would put myself in that situation."
Top 75 Hard Rock + Metal Guitarists of All Time
Counting down rock and metal's greatest guitar players.