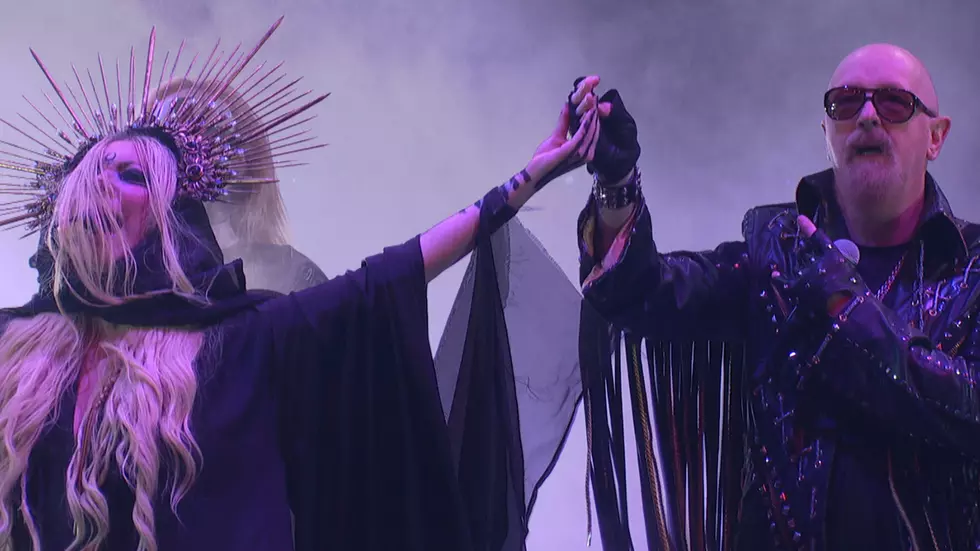 Judas Priest's Rob Halford Joins In This Moment for Theatrical 'Black Wedding' – 2017 Loudwire Music Awards
Loudwire
As winner of the Loudwire Music Awards "Lemmy" Lifetime Achievement Award, it only makes sense that the crowd at The Novo in DTLA would see Judas Priest singer Rob Halford in action. There's no better way to hear that then joining up with In This Moment to perform their own take on Billy Idol and dubbing it "Black Wedding."
The song comes from In This Moment's most recent album Ritual, and features some intense back and forth vocals between Maria Brink and Halford. It transforms Idol's original into a heavy, haunting new beast of a song. Both singers are perfect counterparts for each other, raising the stakes of heavy metal's theatricality to new levels and sounds for an exciting take on the genre.
In This Moment came out with Rob Halford to open the night with "Black Wedding" at the Novo Theater. The combination of artists fired the crowd up, and showed what Halford's vocals can do in a different arena than his own band. The "Lemmy" award is a lifetime achievement award for a reason, and Halford proves that by sounding just as flawless as he did when he stepped into our world with Priest.
After "Black Wedding," In This Moment gave a "thank you" as they rocked "Roots" for the crowd off of their current album Ritual. It was a nice coupling with "Black Wedding," showing that In This Moment have the chops to stick around as one of metal's brightest young bands.
Watch pro-shot footage of "Black Wedding" above and In This Moment's "Roots" below!
Watch In This Moment Perform "Roots" at the 2017 Loudwire Music Awards