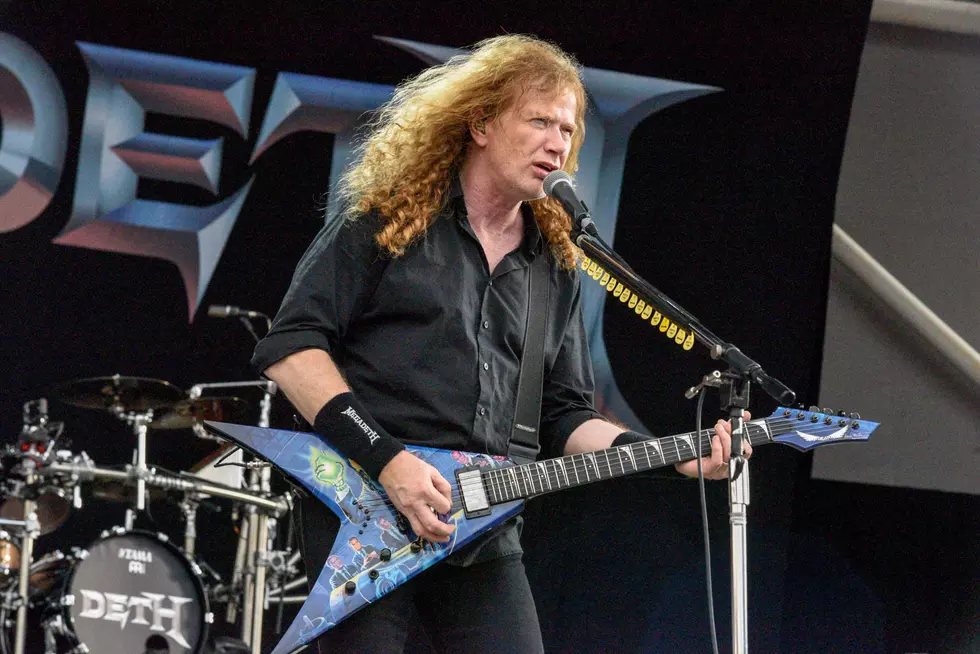 Megadeth's Dave Mustaine Not a Political Songwriter: 'We Write About All Kinds of Different Things'
Evil Robb Photography, Loudwire
Megadeth's Dave Mustaine was the latest guest on Full Metal Jackie's weekend radio program. The frontman discussed finding music that stimulates him, how the band's new lineup has gelled as they prepare to work on the successor to 2016's Dystopia, the insanity of the world today and what immediate plans Megadeth have for the future. Check out the chat below.
Let's start by saying congratulations on the Grammy. It's been a minute since we've talked. Out there supporting Dystopia, you guys won a Grammy, so congrats on that. Let's start with the idea that Megadeth are typically categorized as thrash metal. What changed most about your musical preferences as you became more and more refined as a player?
I don't know that I'm a refined player. I think maybe my musical tastes are refined, but I still consider myself to be pretty rough around the edges with my playing. You know, I like stuff that excites me, that makes me feel alive. I remember for the longest time when the band had kind of gone on hiatus — this was maybe 10, 15 years ago — and the only way that I could get up in the morning was to listen to, you know, really stimulating music and that song "From Out of Nowhere" by Faith No More was pretty much my go-to song every morning. I would put that in the player, and it was like Groundhog Day. As soon as the thing would start, I'd be up and at 'em, you know, so you don't ever really know what the song is that's gonna inspire you.
The current Megadeth lineup now has a good amount of touring under its belt. How will that cohesiveness benefit the band going into the next album?
Well, it makes it easy to remember the guys' names. I think it's — you know, playing with Kiko [Loureiro] is really rewarding out on the road and learning a little bit more about him as a player and not having a chance to play with Dirk [Verbeuren] yet. Dirk came as a recommendation from Chris Adler and Chris has said how much he believed in Dirk. And I have such high praise for Chris. I didn't really know very many drummers that would even fit the bill of what Chris was saying, and meeting Dirk, it was just amazing. It was what we were looking for — somebody that had kind of the playing ability and spirit of Gar Samuelson and somebody who's lived for metal like we do. And I think that getting into the studio with the four of us now is going to be super exciting.
When we did Dystopia, remember, we had taken a very unexpected sabbatical from recording and touring because we were gonna go out on tour with [Iron] Maiden and we were told to come off the road for a while and that that tour would happen and then we all got the news. I'm sure you remember when Bruce [Dickinson] got cancer, so we effectively came off the road for a year and then we're told we were gonna be off the road for several more months and had two guys in the band have to, you know, walk because they couldn't afford to just sit still for that long. So when we went in and did Dystopia, it was a while, but, you know, we're all so familiar with each other right now, I think it's just gonna be a kick-ass record. I'm looking forward to it.
Right now the world is a scary place with politics, protests, mass shootings and natural disasters. How has the lyricist in you been reacting to all of the unrest?
It's funny that you bring this up because it became clear to me several years ago that when you start talking about politics, you immediately divide your audience in half. And what in the beginning was, you know, quite tongue-in-cheek, kind of one-liner stuff started to, unfortunately, define me as a songwriter, and now people think that I'm a political songwriter, which I'm not. In fact, we write about all kinds of different things, but looking at the landscape right now, these are really, really crazy [times]. Look at, like you said, the natural disasters — everything that's going on, the inability for anyone just about anywhere to get along, and it just makes you wonder, "How did we become so devolved?" It's like the Decline of Western Civilization part three.
Dave Ellefson is a mainstay in Megadeth and someone most people associate with the band along with yourself. Taking music out of the equation, why is he important to you?
You know, we just have been friends for a really long time. I don't — I've never really given that much thought. Dave is one of those guys that — he's kind of like a weatherman; he's somebody to count on seeing day to day and usually believe him 100 percent and if he's ever off by a little bit, he's earned that grace that you'll let him have a mulligan. A funny story just came out in Metal Hammer — Dave was talking about the whole Nick Menza / failed [Rust in Peace lineup] reunion thing and he said the same thing I said but because he said it, it's believable. I don't care as long as people know the truth that we loved and supported Nick and wish him well in the afterlife and certainly hope the best for his family.
There's one more album on your record contract. What's your thinking right now on a long-term after that?
We are enjoying the success of Dystopia and what the band has been able to accomplish. Each record, lately, has been a little bit more challenging for us as musicians just trying to keep up with the world where record sales don't matter anymore. It's all about the live performance and it's all about getting out and pressing the flesh and that's the one area where we really excel at is playing live. So, we've been on this tour for Dystopia since January of 2016, if I remember right. I'm not exactly sure when the first dates were, but it's been a long time. We haven't done a tour this long since when we did the Peace Sells tour when we did the tour for 72 weeks and that ended up with us writing great music, with records that followed up after that because there was so much free time on our hands.
Dave, The Scorpions tour obviously ended a little earlier than expected. It looks like you've got some other stuff in the works and some South American dates coming up. Who are you taking out?
Our pals in Anthrax and former drummer from Slipknot, Joey Jordison's new band Vimic. They're a band that just got signed to Universal, really excited about these guys. We have a management company out of Nashville that's managing them and it's pretty neat to see Joey get back up on the drums after everything that happened.
I've always been the person that believes in the underdogs because I usually am one. It's just great to see that. Then, I've got a new thing I'm doing called Give Me Radio which we'll be talking to more people about in the future. Working on, like we said, music constantly, new projects and stuff but for the most part we're just wrapping up the year and settling into a new studio that we're building in Nashville.
Now here's one little bit of news that people don't know, we've been working really hard with a bunch of various different projects. My beer company, Megadeth Beer, we started that off as pretty much — it was a refreshment thing for me because the wine was so successful with the Mustaine Vineyards thing. When we started doing the beer company, that took off, so now we have won a gold metal with Megadeth beer from Chicago at the National Beer Festival and our latest wine that we released our "She Wolf" rosè has won a gold, a double gold and then a platinum which is - I'm probably explaining this wrong, either platinum or double gold means that all of the judges voted first place for our "She Wolf" rosè. So we've been branching out into other stuff like this and of course Dave Ellefson is doing Ellefson Coffee, which is cool.
I know there's gonna be a lot of stuff with Kiko and Dirk doing small appearances with clinics and stuff like that to keep themselves playing. I think one that Kiko was doing was called "A Thousand Fingers" or something like that.
Thanks to Dave Mustaine for the interview. If you haven't already, grab your copy of Megadeth's latest album, 'Dystopia,' now at Amazon or digitally through iTunes and follow the band on Facebook to keep up with everything they're doing. Find out where you can hear Full Metal Jackie's weekend show at this location.
Where Does Dave Mustaine Rank Among the Top 66 Hard Rock + Metal Guitarists of All Time?
10 Greatest Megadeth Riffs