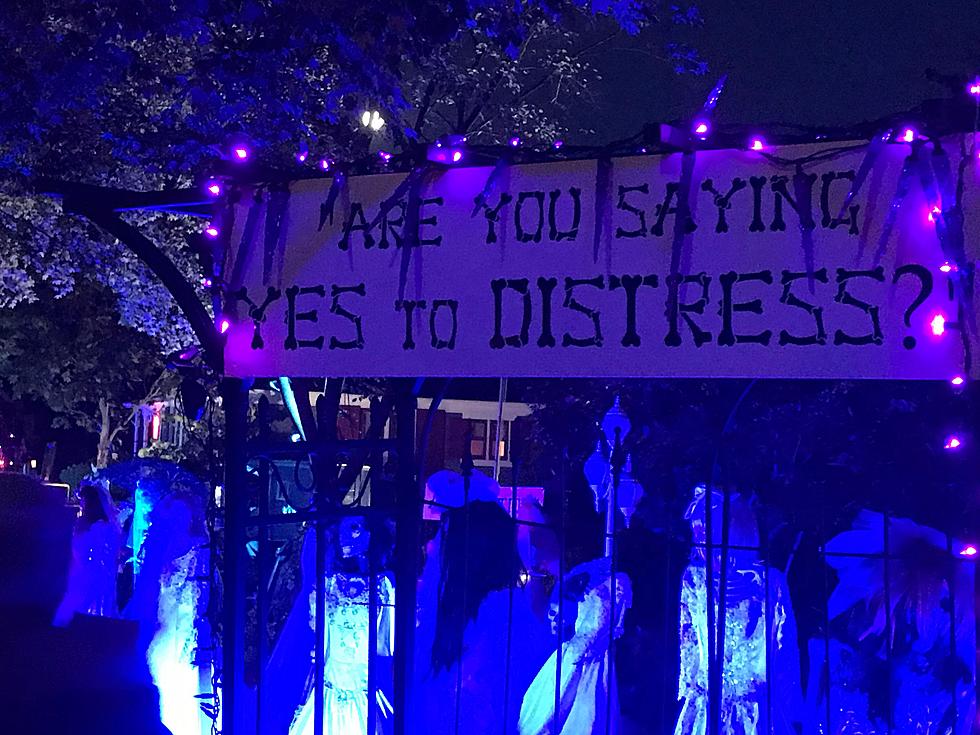 Michigan Neighbors Go Big For Halloween – Terror On Tillson In Romeo
Terror on Tillson via Bruce Johnson
I am sure you have driven by a few houses this Halloween season that are decorated with ghosts, goblins, pumpkins and maybe even head stones. More often than not, it is just one house on a road or neighborhood. That is defintely not the case on Tillson Street in Romeo, Michigan.
This street is famous for their elaborate Halloween decorations during the month of October. This dedicated group of homeowners come together each year to put together a spooktacular display like none you have ever seen. Unfortunately, I do not have time to drive to Romeo and see all of the Halloween decor and gore in person. Lucky for me and you, a co-worker of mine did. Shout out to Bruce Johnson for taking over 40 pictures of the Tillson Street homes (see  below).
These homeowners truly do go all out for the season. Can you even imagine the number of trick-or-treaters they must get? Talk about a small fortune in candy.
If you do want to experience Tillson Street in person, here are answers to frequently asked questions, via the Tillson Street official website.
When is Tillson Street open?
~ It's a public street so we are always open! You might see homeowners bringing out decorations in early October but the final displays are not up until the week leading up to Halloween. Final touches are happening up to the big day, October 31!
How much is it to visit?
~ FREE!! There is no cost to visit the street. The homeowners are not paid to decorate and do not receive any reimbursement for their efforts. If you are asked to pay to visit the street those monies do NOT go to Tillson Street Residents.
Where do I park?
~ You can park anywhere on the neighboring streets in the Village of Romeo. On a nice evening it is best to walk and check out the street and beautiful downtown stores and restaurants!
Are there any restrooms?
~ There are no public restrooms on the street. Downtown Romeo offers many restaurants with restrooms.
Can we bring pets?
~ It is a public street so yes, you can bring pets. Please note there can be thousands of people on the street at one time so if your pet is a bit timid and nervous it might be best to leave them at home.
Where do you store all the stuff?
~ In every nook and cranny we can find in our homes, garages, basement and barn! (even under the beds!)
I heard you sell shirts, where can I buy them?
~ Yes we do sell shirts! They are sold on the street at 171 Tillson typically a week or two weeks before Halloween. Check our FB page for updates.
​
Can we trick-or-treat on Tillson Street?
~ Yes, Trick-or-Treating is on October 31 from 6:00 - 8:00 pm every year. Please note the street is closed to ANY vehicle traffic from 5:30pm - 8:30pm. If you park on the street prior to 5:30pm you will NOT be able to move your car until the street is open again at 8:30pm. This is for the safety of the over 2,000 trick-or-treators.
Can I touch the displays?
~ We would prefer that you didn't please! The residents go through a great deal of effort to put the displays together. They give up their weekends and weeknights in October to provide a fun, free, family night out for all. Please be courteous and look, don't touch!
Do I have to wait in line to walk the street?
~ NO!! It is a public street, you can walk down either side at your own pace. We ask that you are courteous to your fellow visitors so that you can all see the displays.
Please enjoy the pictures from Tillson Street below. Let me know if you visit in person too. Happy Halloween.
Terror On Tilson