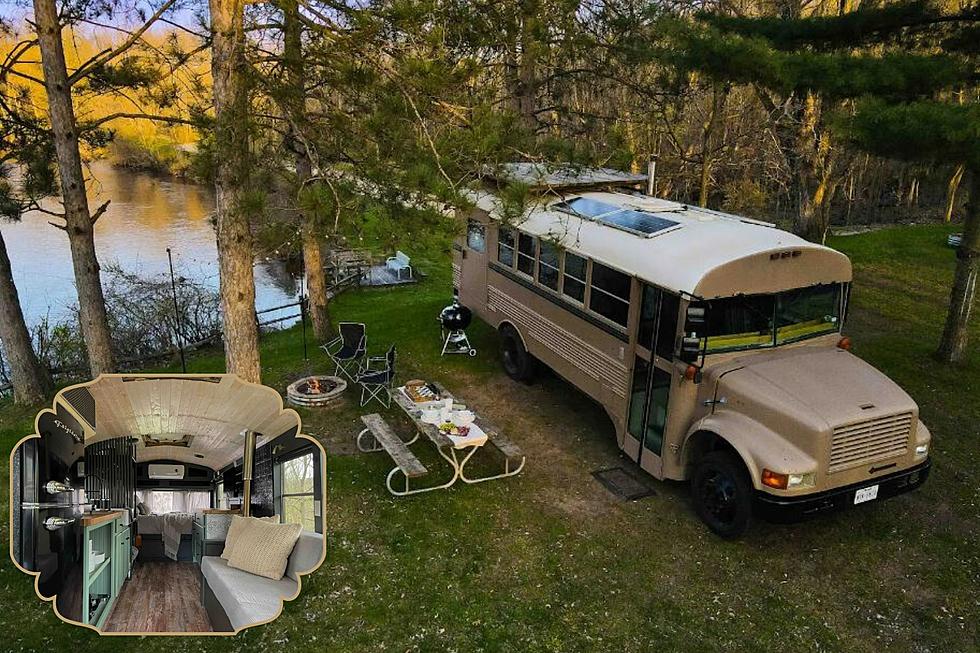 Sleep Along Michigan's Muskegon River in a Converted School Bus Airbnb
Airbnb/Canva
Located in Grant, Michigan is where you'll find a glamping experience like nothing you've ever seen before. That is unless you've seen a school bus that's been completely renovated and transformed into a one-of-a-kind Airbnb.
The Rolling Retreat is a converted school bus located at Salmon Run Campground in Grant, Michigan.
If sleeping in a tent isn't your thing (trust me, I get it) and you don't own or can't afford to rent an RV, this might be the perfect solution for you and your camping desires.
Airbnb Listing:
Our bus is outfitted with everything you need for a comfortable stay. The queen bed is perfect for two, and the curtains on all the windows provide privacy and a peaceful atmosphere. If you're feeling chilly, the small wood-burning fireplace is perfect for warming up the space. The bus has a mini split for cooling the interior in the summer and a space heater for chilly nights that you don't want to maintain a fire.
Are pets allowed?
Yes, pets are allowed. The Rolling Retreat even comes with food and water bowls. Not being able to bring your pet is a deal breaker for a lot of people.
Hot coffee, sugar, and creamer are included as well to enjoy in the morning on the Muskegon River.
How Much Does it Cost to Rent?
If you're looking to take a break from everyday life, this is probably the cheapest and most therapeutic way to do it.
On the main Airbnb page, it says that it's only $83 per night. However, that price can vary depending on when you stay. I jumped around and popped in some different dates here and there and it kept giving me a different price. Airbnb does this with most of their rentals and I'm not quite sure why.
It's possible that the price changes depending on where the Rolling Retreat is parked. The bus moves to different camp spots throughout the summer. Apparently, there wasn't one spot that was available all season long.
You can get available dates and prices, here.
Converted School Bus Airbnb on MI's Muskegon River
Sleep along Michigan's Muskegon River at Salmon Run Campground in Grant, Michigan in this converted school bus.
MI Airbnb Comes With Private Chefs, Pinball Machines, and 21 Beds
Meemo's Farms also offers paintball, a zipline and climbing wall, a high & low ropes course, hiking, ATV tours, hunting, fishing, mountain biking, a shooting range, kayaking, and more.
Michigan Airbnb Has a Underground Bowling Alley
The Lanes offers exclusive world-class accommodation that comes with a bonus...a bowling alley. This unique stay is located in Evart, Michigan, and is surrounded by a beautiful forest. It's all about the wilderness, privacy, relaxation, and bowling at this killer Airbnb.
This Incredible West MI Airbnb Will Set You Back $8,717 per Night
This Airbnb in Spring Lake, Michigan has an indoor pool and sauna along with a full outdoor tennis court, gazebo, firepit, and more. Just $8,717 per night.