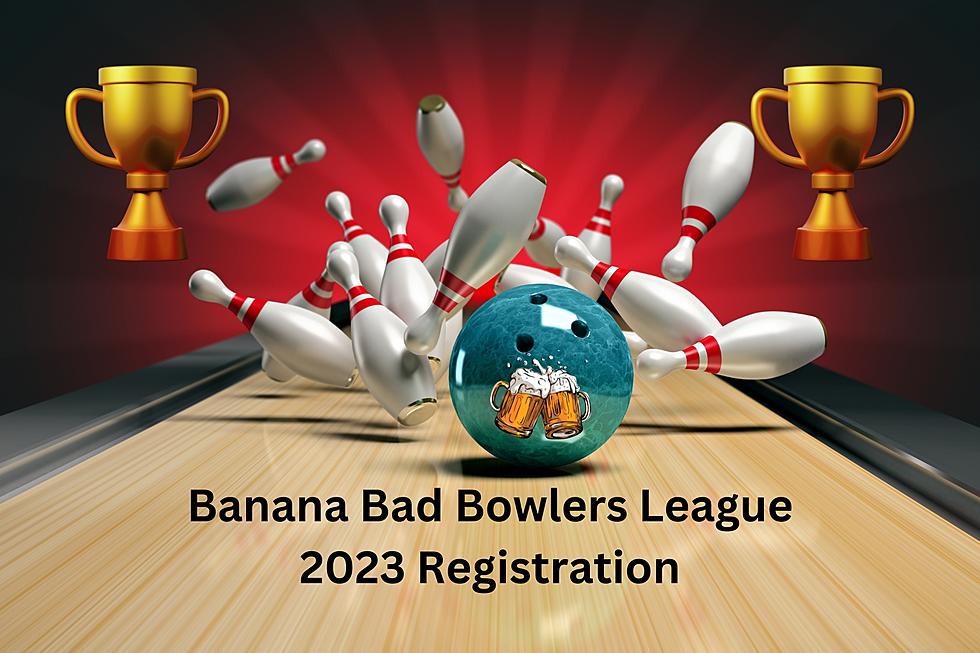 Banana 101.5 Bad Bowlers League 2023 (Season 14) Registration
Canva Pro
Sign up now for Season 14 of the Banana 101.5 Bad Bowlers League.
The 2023 season of the Banana 101.5 Bad Bowlers League is coming up fast. Sign your team of four up now to join us, but act fast as this league sells out quickly. This is a fun, beer-drinking, non-sanctioned league, so leave the overly-competitive, obnoxious attitude at the door.
What are the details for the Bad Bowlers League?
Here is the rundown of how the Banana Bad Bowlers League works:
WHEN: Wednesday nights starting on September 13th, 2023. (Lanes turn on for warm-up at 6 pm)
WHERE: Grand Blanc Lanes (on Saginaw Street just south of Maple Road in Grand Blanc)
COST: $12 per person/week. As a bonus, if you bowl all 10 weeks of "regulation play," the 11th week is free.
TEAMS: Teams are to consist of four bowlers (any mix of players.)
The league will be in play every Wednesday night from September 13th through November 22nd, 2023.
Sign up your team now!
Banana 101.5 Bad Bowlers League - 2023 Registration
Sign up now for Banana 101.5's Bad Bowlers League - Season 14. Bowling begins on Wednesday, September 13th.
Michigan Airbnb Has a Underground Bowling Alley
The Lanes offers exclusive world-class accommodation that comes with a bonus...a bowling alley. This unique stay is located in Evart, Michigan, and is surrounded by a beautiful forest. It's all about the wilderness, privacy, relaxation, and bowling at this killer Airbnb.
Former Flint Bowling Alley Turned Shopping Center -Then and Now
The old AMF Town N Country Lanes building at Miller Road and I-75 has been converted into a shopping center called the Seeko Shopping Center.