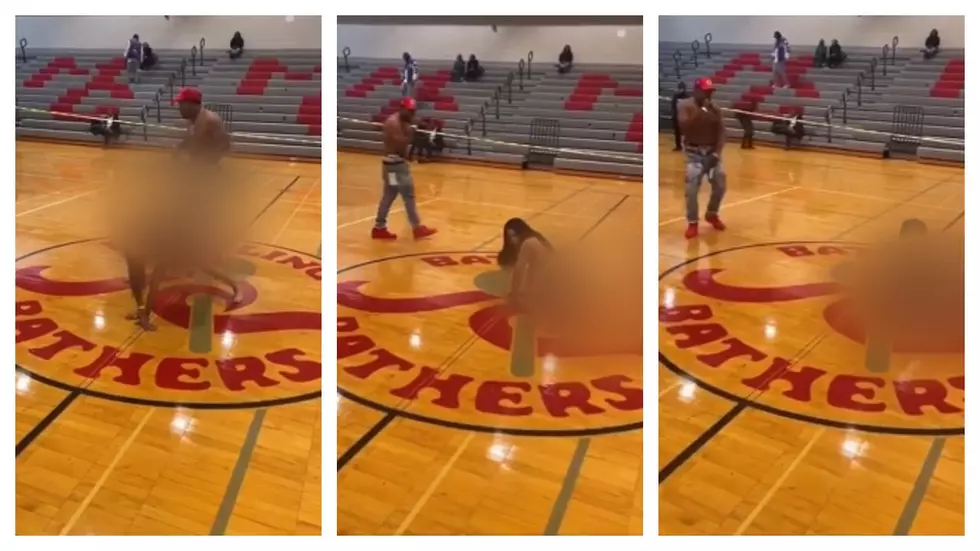 Former NFL Player Apologizes For Stripper At Michigan High School
FOX 2 Detroit via YouTube
Mount Clemens High School is making news after a stripper was brought in for an after-hours performance.
FOX 2 reported that the gymnasium was rented by former NFL player Quentin Hines. According to Mr. Hines, he has rented the gymnasium at least 100 times over the last ten years. However, this time was much different.
The event on this particular evening was marketed as Peezy's Sweetie's Day Bash. The woman in question danced seductively on the gymnasium floor during a rap performance by O.T. Rell of Detroit.
The event was put on by Rivals Recruiting Worldwide, which is owned by Quentin Hines. Mr. Hines did indeed apologize as you will see in the video below and was quick to point out that he does not think the woman was a stripper, but a dancer who made a poor judgment with her attire.
The bottom line is the school district was not happy and Quentin Hines will no longer be able to rent Mount Clemens High School for any upcoming Rivals Recruiting Worldwide events.
After you watch the videos (edited and unedited versions) let me know what you think. Is Quentin Hines the one to blame, or should the rapper, O.T. Rell, and the dancer be the people at fault?
What I still can't get over is the fact that school gymnasiums can be rented out. I went to high school in Linden and the only thing that I ever saw happen in the gymnasium was sporting events, pep rallies, and graduations.
What a time to be alive.
14 Famous People That Have Ties to Ann Arbor, Michigan
Ann Arbor, Michigan, the home of the Wolverines, has supplied the world with actors, musicians, a couple of Playboy Playmates, tech gurus, and more.
12 Famous People With Ties to Dearborn, Michigan
Dearborn is the seventh most populated city in Michigan and has ties to many notable and famous people. Check out just 12 of those people here.
Eight Notable People With Ties to Traverse City, Michigan
Several famous and/or notable people have been either born in or spent considerable amounts of time in Traverse City, Michigan. Check them out here.