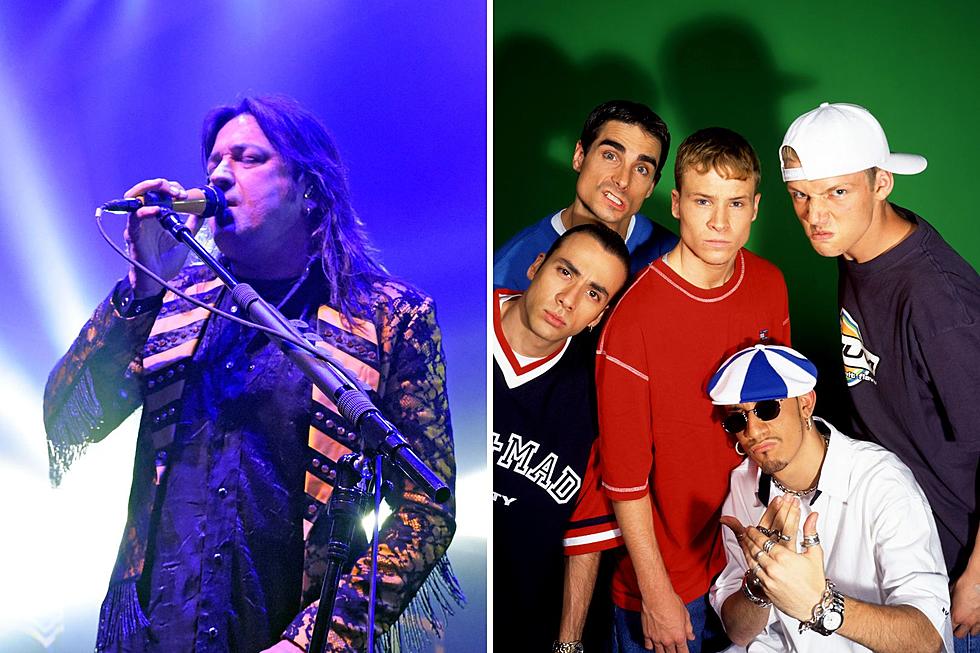 Stryper's Michael Sweet Dares Followers to Fight Him Over His Favorite Boy Band
Stephen J. Cohen / Bob Berg, Getty Images
Stryper's Michael Sweet woke up and chose violence when he challenged his followers to "fight" him over his favorite "boy" band, Backstreet Boys.
However, it's clear from the Stryper bandleader's tone that he doesn't really want to engage in a physical fight. But the seasoned rock singer did appear eager to discuss Backstreet Boys and other competing boy bands from that era and beyond.
In a May 22 post, Sweet shared a photo of Backstreet Boys and remarked they were the "best 'boy' band of all time" before tagging the group's official page. He added the challenge, "Fight me," followed by the flexed biceps emoji.
READ MORE: The 11 Cheesiest Hair Metal Ballads
Sweet, 59, likely is recalling the fruitful 1990s for boy bands. Back when the early-'90s success of New Kids on the Block and Boyz II Men led to the late-'90s dominance of Backstreet Boys and *NSYNC.
Backstreet Boys were founded in Florida in 1993 before becoming hitmakers. Stryper rose through the ranks of Christian metal in the '80s before taking a hiatus in the '90s. But the Sweet-led act revived their yellow-and-black metal attack in 2003.
What Does "Fight Me" Mean?
Sweet's exhortation to fight comes from an internet trope often seen when one is vigorously prompting dissenting opinions. It's often posed as "fight me in the comments" or "fight me IRL."
Under Sweet's post and Stryper tour dates, find a list of other bands touring in 2023. Get Loudwire's newsletter and the Loudwire app for more.
Stryper's Michael Sweet Challenges a Fight Over Boy Band Backstreet Boys
Stryper Summer 2023 Tour Dates
May 24 – Denver, Colo. @ Oriental Theater
May 26 – Great Falls, Mont. @ The Newberry
May 28 – Spokane, Wash. @ Knitting Factory
May 30 – Seattle, Wash. @ El Corazon
May 31 – Portland, Ore. @ The Bossanova
June 2 – Roseville, Calif. @ Trading Post
June 3 – Santa Ana, Calif. @ Yost Theater
June 4 – San Diego, Calif. @ House of Blues
June 6 – Hollywood, Calif. @ Whisky a Go Go
June 7 – Tempe, Ariz. @ The Marquee
June 8 – Tucson, Ariz. @ Rialto Theater
June 10 – Las Vegas, Nev. @ The Cannery
July 14 – Mineral City, Ohio @ Alive Fest
July 15 – Ashland, Ky. @ The Paramount
July 16 – Bristol, Va. @ Cameo Theater
July 17 – Nashville, Tenn. @ The Basement
Aug. 10 – San Antonio, Texas @ Espee
Aug. 12 – Biloxi, Miss. @ IP Casino
Your Guide to Rock + Metal Bands Touring in 2023
Check out over 200 rock and metal bands' touring schedules for 2023.