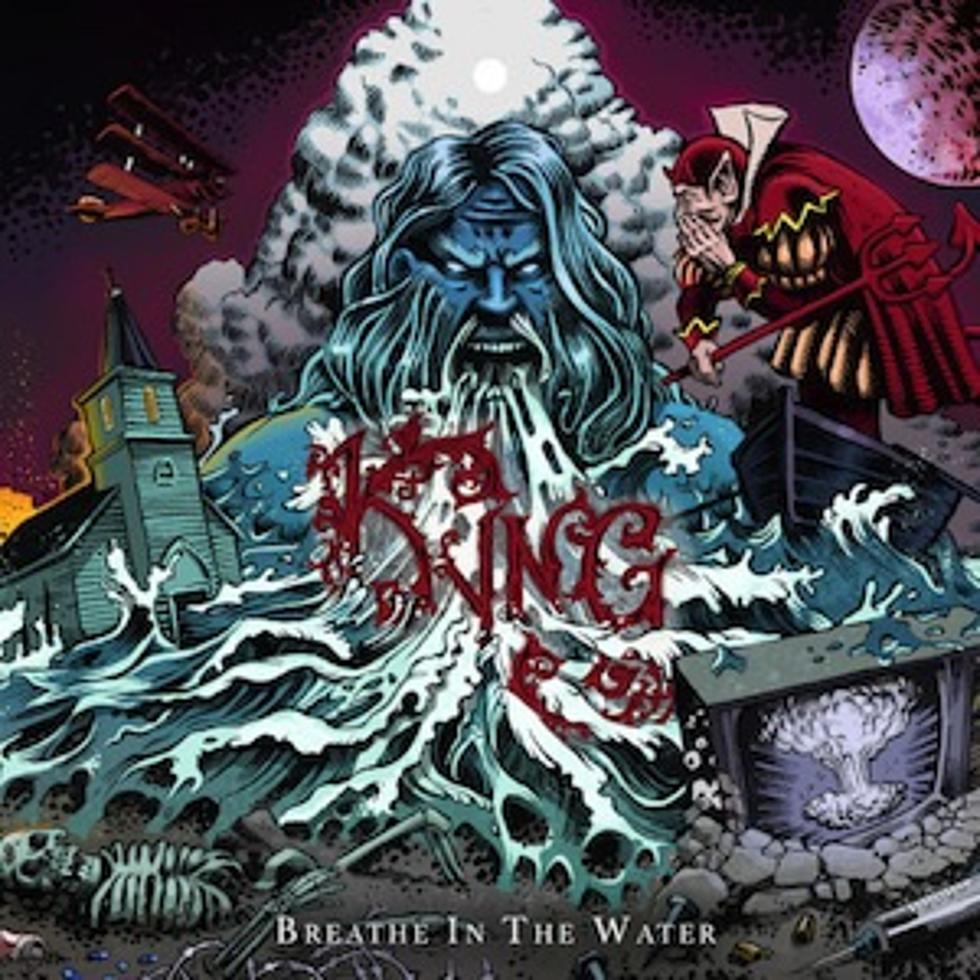 Kyng Reveal 'Breathe in the Water' Album Details, Release Energetic New Song
Razor and Tie
Los Angeles rock power trio Kyng are back, ready to drop Breathe in the Water, their third record, on Oct. 7 through Razor and Tie. The disc boasts 14 new tracks with album opener "Pristine Warning" already buzzing around the airwaves and can be heard below.
The album cover features a vicious Poseidon-like figure with a demonic gaze, exhaling ripping currents that have spelled death and destruction, sweeping away a church and leaving behind a picked-clean skeleton partially buried in the sand. Off to the right, a moon hangs in the corner as the Devil whispers something into the blue figure's ear.
As for "Pristine Warning," the track leads in with a punishing, churning groove that is quickly discarded as the verse kicks into action. With a thrashy pace, aided by a furious drum performance, the aggression subsides on the head-bobbing, sing-along chorus. The production, courtesy of Machine (Clutch, Lamb of God) at Machine Shop Recording Studio, is thick and warm, but spacious enough to give the lighter moments a clever balance to Kyng's sound.
"We were finally able to create a record that had zero stigmas to appease the industry," said guitarist / vocalist Eddie Veliz. "Every song on this record came from the depth of what Kyng truly is as a band. This album is far beyond anything that we have done in the past. Some of my best work resides in Breathe in the Water."
Kyng, Breathe in the Water Track Listing:
01. "Pristine Warning"
02. "Breathe in the Water"
03. "Closer to the End"
04. "Follow Blindly"
05. "Show Me Your Love"
06. "Reckoning Part 1"
07. "The Dead"
08. "Bipolar Schemes"
09. "Hide From You"
10. "Song for a Broken Masque"
11. "The Beginning of What Was"
12. "The Battle of the Saint / Lines"
13. "Not Enough"
14. "What I'm Made Of / Reckoning Part 2"
Best Rock Albums of 2016 (So Far)
10 Greatest Rock + Metal Power Trios