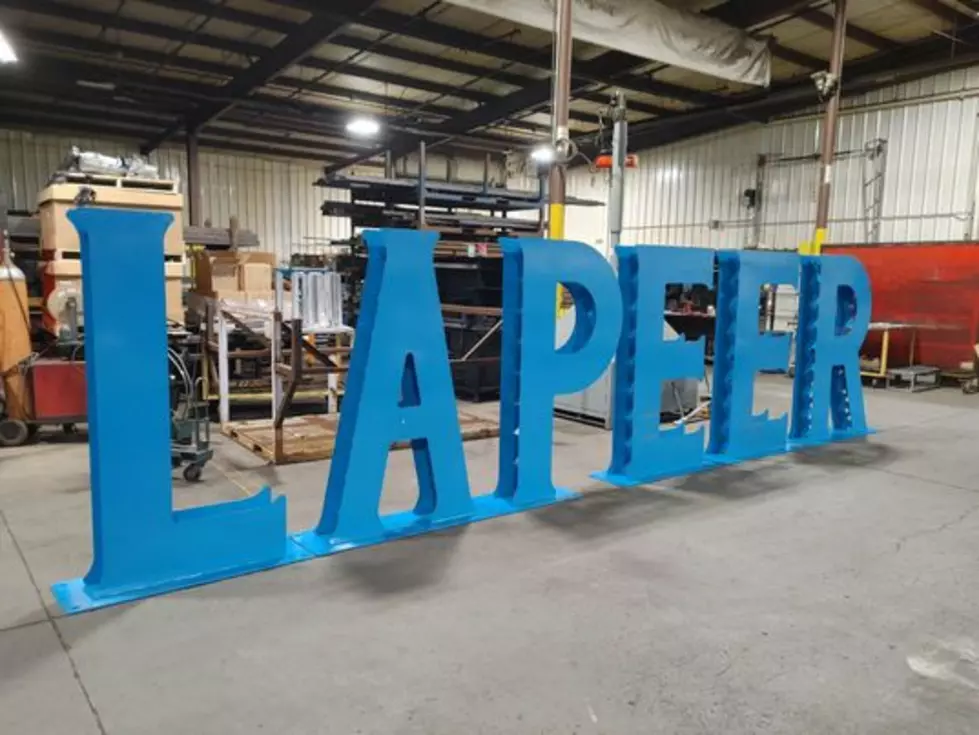 New Landmark Lapeer Sign Is Done – Where Will It Go Now?
Ryan Kilpatrick Whiskey Mics
The Lapeer landmark sign is complete, now the question is where is it going to go?
Flint resident Ryan Kilpatrick made the giant sign in his studio, Whiskey Mics. Kilpatrick is the artist who also created the Flint landmark sign located in downtown Flint. As you can see in the photos, due to the size of the sign, its permanent home will require a lot of space.
According to Kilpatrick, the clean welding and baffling (bent pieces inside of each letter), of the project takes roughly two hours per letter. The artist did bring in Dalton Loff, Art Robbins, and Tommy Van Horn to help with this particular project. Ryan Kilpatrick will also be involved with setting up the sign when a spot is finalized.
Think of all the great photo opportunities this landmark sign brings, and not just for selfies. I have a feeling a lot of Lapeer graduates will be getting senior pictures in front of it too.
In the meantime, where do you think the new Lapeer landmark sign should be set up? My guess is it will find a home in the historic downtown area, but again, that is just a guess.
Shout out to artist Ryan Kilpatrick and his Whiskey Mics team and everyone involved with the new landmark sign. I can't wait to check it out in person and take a selfie of course.
Lapeer's Most Expensive Home on the Market
$1.6 Million Home in Lapeer Co Looks Like Something Straight Out of Yellowstone
Located in Metamora, this 3,100 square foot Lapeer County home looks like something straight out of the Yellowstone television series. This killer custom built home even comes with heated floors and an in-ground saltwater pool.
Lapeer County Barn Home With Silo Bedrooms
This restored Lapeer County barn has some interesting features, especially the bedrooms that are tucked away in its silo.