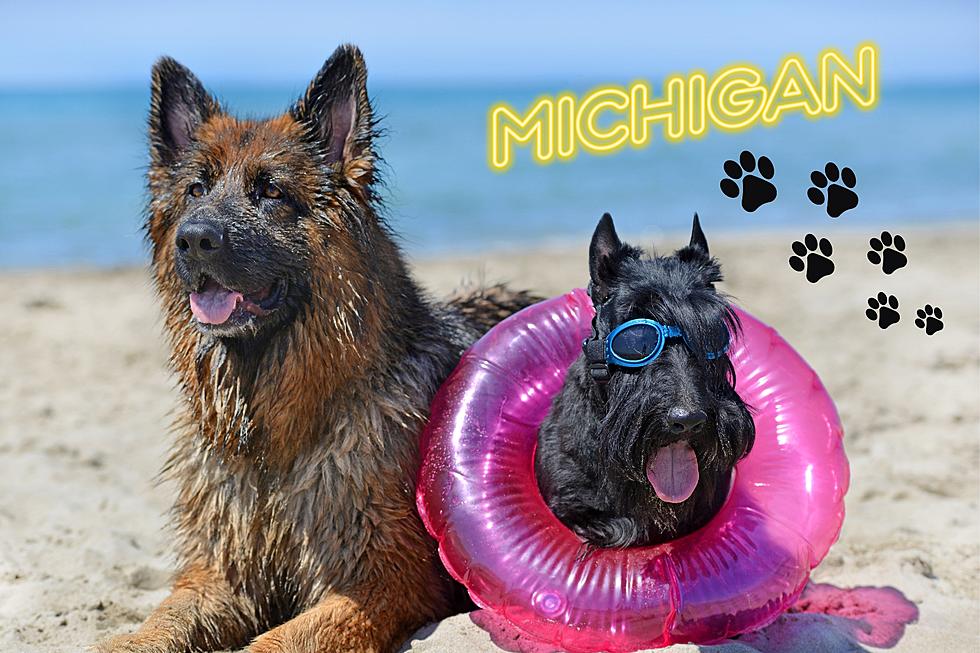 Take Your Pup for a Swim at These Pet-Friendly Michigan Beaches
Canva Pro
Take the whole family, including the dog, to these pet-friendly Michigan beaches.
The summer can get pretty hot here in Michigan, not just for us humans, but for our dogs and animals as well. When planning a vacation in the Mitten, many times people have to decide whether or not to bring the family dog or dogs. Some places welcome our beloved pets with open arms.
Instead of boarding your dog or finding someone to take care of them while you're on vacation, why not bring them along? Below you'll find a list of all the pet-friendly beaches throughout Michigan that will help you with vacation planning. Just keep in mind that pets much be kept on a six-foot leash even if they are in the water.
Where are the pet-friendly beaches in Michigan?
If you are planning a vacation for the entire family, including your pets, these are the areas in Michigan with pet-friendly beaches:
Burt Lake State Park in Indian River

The pet-friendly beach can be found at the south end of the park.

Dodge #4 State Park in Waterford Township

Pets are welcome at the beach just outside of the designated swim area.

Harrisville State Park in Harrisville

Located in the modern campground, this pet-friendly beach is open to non-campers as well.

South Higgins Lake State Park in Roscommon

A section of the shoreline near the day-use area (east boundary of the park.)
In the campground (west side of the boat access site.)
One in the campers-only area (west boundary of the campground.)

Tawas Point State Park in East Tawas

Between the lighthouse on Tawas Bay and the campground.

Wilderness State Park in Carp Lake

Take the small path down to this pet-friendly beach near the picnic area.
Click here to see pet-friendly shorelines, pet-friendly lodging, and more.
Source: Michigan.gov
Life's A Beach At This Awesome Michigan Vrbo Rental
The Defunct Wenona Beach Amusement Park, Bay City