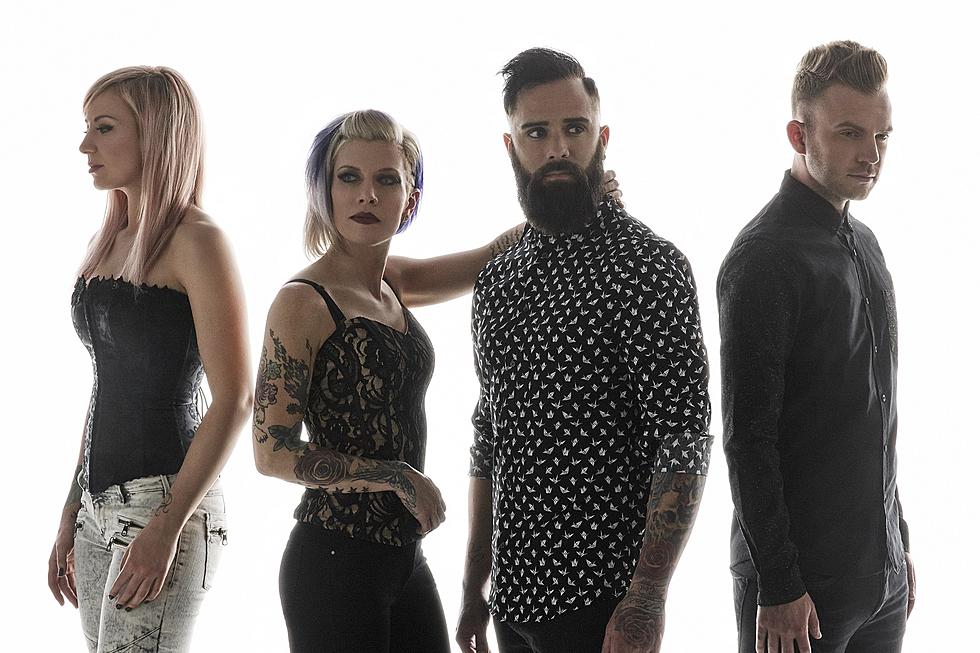 Skillet Have a New Song Coming Next Month
Joseph Cultice
Skillet have a new song on the way next month, going by an interview lead singer and bassist John Cooper gave last week. Talking to Backstage Entertainment after the band's March 27 gig in Sioux City, Iowa, the musician spilled the beans about a new single release from the rockers' upcoming album, itself due this summer.
The follow-up to 2016's Unleashed, Skillet set out to make the effort "a bit heavier" than their past work, according to Cooper's outlook last year. Originally due last fall, the new album — the band's tenth — is now expected this summer, Cooper said, and the project holds a special collaborative importance for the frontman.
"Just listened to mixes today," Cooper said in the above clip. He anticipated "more nitpicking with the mixes but they're almost done. Record will be done any day now, released this summer. So we got a single coming in May."
Further, the musician revealed that the imminent full-length is a joint production between himself and his wife, Korey Cooper, the Skillet guitarist and keyboardist with whom the band premiered two new songs live in March.
The new Skillet single could be one of those tunes, "Rise Up" and "Dead Man Walking," although Cooper didn't exactly say. Still, the musician voiced his enthusiasm about the forthcoming album from the group.
"I'm very excited about the record, it's good," he shared. "Me and Korey produced the bulk of it this time, which is the first Skillet record we've produced the bulk of in a long, long time. So that's pretty exciting for us."
See video of the two new songs, and catch the band's tour dates below.
April 8 — Vladivostok, Russia @ Skillet Russian Tour 2019
April 9 — Khabarovsk, Russia @ Skillet Russian Tour 2019
April 11 — Irkutsk, Russia @ Skillet Russian Tour 2019
April 12 — Novosibirsk, Russia @ Skillet Russian Tour 2019
April 14 — Yekaterinburg, Russia @ Skillet Russian Tour 2019
April 16 — Ufa, Russia @ Skillet Russian Tour 2019
April 18 — Kazan, Russia @ Skillet Russian Tour 2019
April 20 — Nizhnij Novgorod, Russia @ Skillet Russian Tour 2019
April 22 — St. Petersburg, Russia @ Skillet Russian Tour 2019
April 23 — Moscow, Russia @ Skillet Russian Tour 2019
April 24 — Voronezh, Russia @ Skillet Russian Tour 2019
April 27 — Krasnodar, Russia @ Skillet Russian Tour 2019
April 28 — Rostov, Russia @ Skillet Russian Tour 2019
May 4 — Jacksonville, Fla. @ Welcome to Rockville
May 10 — Rockingham, N.C. @ Epicenter Fest 2019
May 18 — Oklahoma City, Okla. @ Frontier City
June 8 — Denver, Colo. @ Ekutch Gardens Theme Park
June 15 — Vaughan, Canada @ Wonderjam 2019
June 21 — Sheldon, Iowa @ Rise Fest 2019
June 22 — Mason, Ohio @ SpiritSong 2019
June 29 — Shirleysburg, Pa. @ Creation Festival Northeast 2019
July 12 — Mansfield, Ohio @ Inkcarceration Festival 2019
July 13 — Oshkosh, Wis. @ Lifefest 2019
July 17 — Gilford, N.H. @ Nickelback Feed the Machine Tour
July 18 — Cadott, Wis. @ Rock Fest 2019
July 20 — Mineral City, Ohio @ Alive Festival 2019
July 27 — Bangor, Maine @ Impact Music Festival
July 28 — Montreal, Canada @ Heavy Montreal 2019
July 31 — Darien Center, N.Y. @ Kingdom Bound 2019
Aug. 2 — Duluth, Minn. @ City on the Hill Music Festival 2019
Aug. 3 — Midland, Texas @ Rock the Desert 2019
Aug. 8 — Muskegon, Mich. @ Unity Christian Music Festival 2019
Aug. 10 — Valdosta, Ga. @ Wild Adventures Theme Park
Sept. 8 — Hutchinson, Kan. @ Kansas State Fair
Sept. 12 — Stamford, Ct. @ Skillet with Ledger
Sept. 15 — West Springfield, Mass. @ The Big E