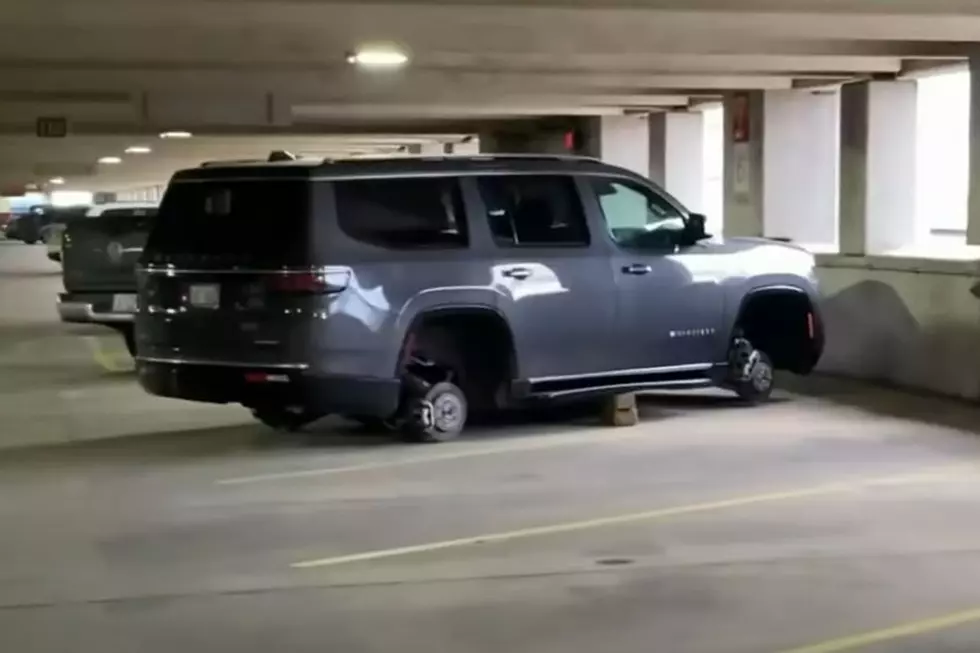 Well, That Sucks – Family Finds SUV on Blocks at Detroit Metro Airport
WDIV YouTube
Imagine walking into the parking garage at Detroit Metro Airport after a long day's travel only to find your vehicle sitting on blocks. Well, that's exactly what happened recently to a man and his family when they walked into the big blue deck at the Evans terminal.
Joe Hebeka found his new Jeep Wagoneer literally sitting on blocks with his pricey 22-inch wheels removed.
How does something like this happen without someone witnessing it? I mean there should be security cameras everywhere, right? Not to mention the presence of airport police and security.
Apparently, there's a lack of security cameras inside the big blue deck because there is no footage of anyone stealing Hebeka's wheels. He said that police have gone through hours and hours of footage but found nothing.
Travelers usually park inside parking garages at the airport because they feel their vehicle is in a safe place. It sounds like that's just not the case at Detroit Metro Airport as vehicle and tire thefts are on the rise according to the airport's statement that was released after the incident.
Erica Donerson, C.M. Vice President, Communications & External Affairs:
Safety and security remains our top priority at Detroit Metropolitan Wayne County Airport. Due to the recent vehicle and tire thefts in our parking decks, we've taken several steps to address the problem. Earlier this year, we increased patrols of our parking decks. In response to the recent thefts, our Airport Authority Police Department and Security teams have added patrols. Also, we're exploring increasing camera coverage and adding additional technology at the Big Blue Deck and the McNamara Terminal Parking Deck. Furthermore, our police department is working in cooperation with several law enforcement agencies to address stolen vehicles not only at DTW but across Southeast Michigan.

 
Source: WDIV
Take A Look Inside This Long Forgotten Airport In Michigan
While it is a top mod of transportation and vacationing nowadays, there are some airports that have been left abandoned. Take a glance around this now abandoned, Michigan airport.
Michigan's Busiest Airports
According to the latest figures from the Federal Aviation Administration, these 10 Michigan airports had the most outgoing passengers in 2021..
15 Most Dangerous Cities in Michigan Based on Crime Rates
These are the Michigan cities that have the highest crime rates. Take a look and see if your city made it onto the list.
Vintage Michigan Airports