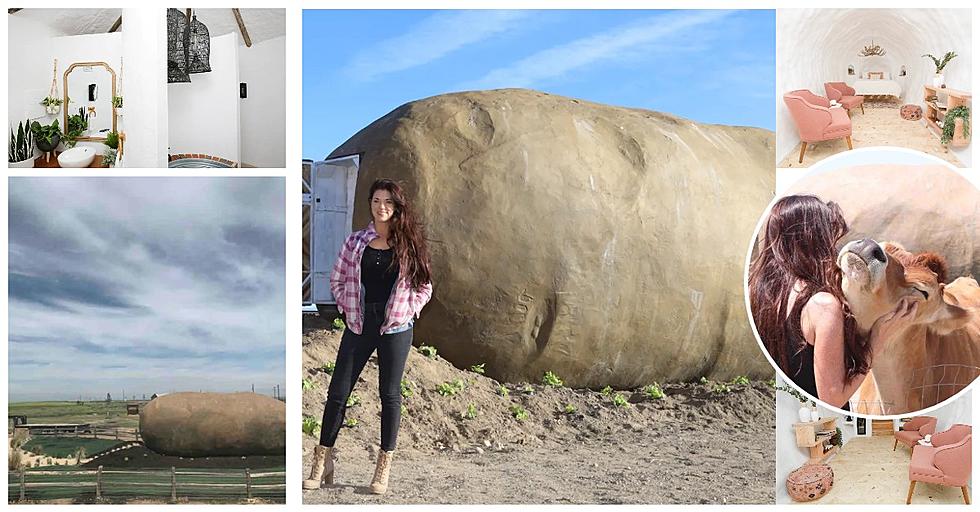 You Say Giant Potato, I Say Giant Potato Airbnb
Otto Kitsinger/AP Images for Idaho Potato Commission
I think it is safe to assume that most of us have a favorite food. I am not talking about a particular favorite food group - I mean one food item that we cannot live without. I for instance love a great taco, you perhaps may crave potatoes. If that is indeed the case, I have found the perfect Airbnb for you!
This popular potato-shaped getaway is absolutely spud-taclular. Even the biggest couch potatoes cannot resist getting off their butts for an opportunity to stay in this one-of-a-kind, 6-ton potato Airbnb.
The space features plenty of room for mashing (I couldn't resist), and is described as follows,
If you love the fluffy feeling you get when you eat Idaho potatoes, you'll love staying in a giant potato-turned cozy, grown-up getaway for two featuring one bedroom and one bath.

 

Recycled from the Idaho Potato Commission's Big Idaho Potato Tour, this 6-ton potato has traveled on the back of a semi to (48) states for seven years. Now resting on 400 acres of good ol' Idaho farmland, just south of downtown Boise, this hotel has been meticulously designed by Kristie Wolfe, a former Big Idaho Potato Tour spokesperson, to allow for stylish private comfort and amenities such as power outlets for your electronic devices, a mini-fridge, old records to play and a custom-built bed.

 

There is also a customized silo turned into a spa retreat perfect for soaking while looking up at the stars. For an extra dose of cuteness, The Big Idaho Potato Hotel comes with the cutest jersey cow in the world who will be your fuzzy pet for the stay. Cost is $207 per night.
I have never had a reason to go to Idaho - until now. This truly is a unique experience. You can explore the Big Idaho Potato Hotel in the pictures below.
Big Idaho Potato Hotel Airbnb
Check Out This Airbnb Tent in Michigan
If you're looking to go camping but you really don't want to rough it too much, this Airbnb tent might be perfect for you.
Airbnb Cottage On Lake Fenton Is the Perfect Summer Getaway
Rock N' Roll Themed Mt. Brighton Airbnb