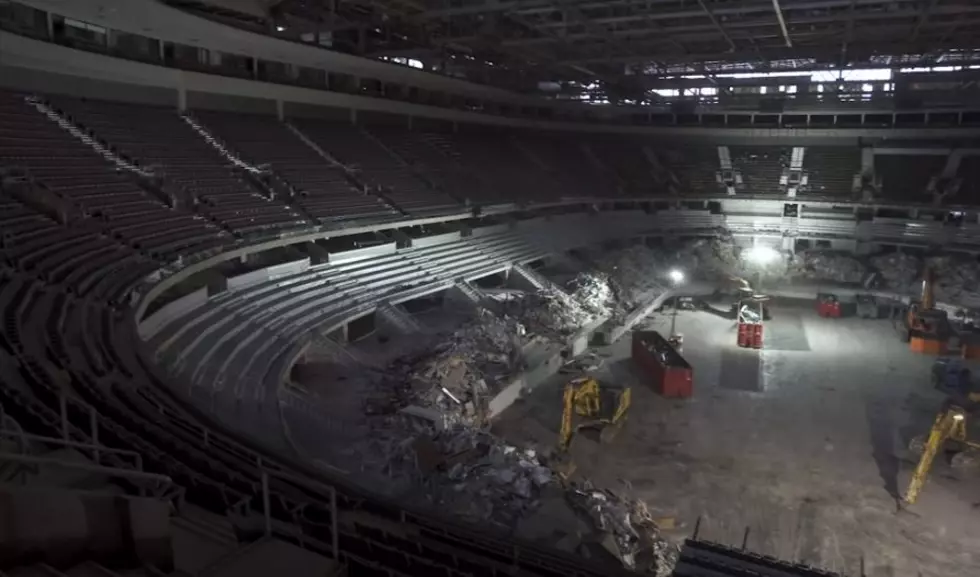 Inside the Palace of Auburn Hills During Demolition in 2020
Abandoned Central via YouTube
Just over two years ago, the Palace of Auburn Hills was demolished.
It is still a sad thing for Michiganders to think that the Palace of Auburn Hills was demolished. Since opening in 1988, The Palace was home to countless Pistons games, concerts, and other events.
That all came to an end on July 11, 2020, when the button was pressed to implode the roof of the building. However, the final events at the Palace of Auburn Hills were held in 2017. The final Pistons game was on April 10th, 2017, the last concert was on September 23rd, 2017 with none other than Bob Seger, and the last event was the Taste of Auburn Hills on October 12th, 2017.
Even though it is now gone, we can't help but remember some of the greatest moments ever that took place inside the Palace. As far as concerts, Michael Jackson performed three sold-out shows there in 1988, Aerosmith rocked the house 14 times between 1990 and 2012, a fan rushed the stage with a knife in an attempt to murder Jimmy Page, and so much more.
SEE ALSO: Take a Look Inside Detroit's Abandoned Chi-Chi's Strip Club
When it comes to basketball, the Palace was the first modern-style arena in the NBA. The address of the Palace was 6 Championship Drive to represent the three Pistons' NBA titles and the Detroit Shock's three WNBA titles. And of course, how could anyone forget the "Malice at the Palace."
So much history now just a memory. However, before the Palace was demolished, our friend Bob Huston from Detroit Unseen and Abandoned Central, was able to get footage of the demolition inside the building. He actually had to sneak in dressed as a construction worker. Well done Mr. Huston!
While it is sad to see the footage, it does dig up so many memories from inside that building. I remember having a great time at several of the exact spots that he took footage of. Check out the video below and relive some of your memories.
Source: Abandoned Central
A Look Inside the Abandoned Detroit "Pill Mill" Raided by the DEA
This abandoned medical clinic in Detroit still sits untouched after being raided by local and federal authorities in 2017 as part of Operation Candy Man.
13 Notable People That You Did Not Know Were From Detroit, MI
Detroit, Michigan is the birthplace of thousands of notable people and many people know. Check out this list of 13 people that you may not know were born in The D.
Check Out This $2.9M Historic Home in One of Detroit's Oldest Neighborhoods
Built in 1879, this is a rare one-of-a-kind find in Detroit that sits in Brush Park, one of the City's oldest neighborhoods. This home is currently on the market for $2.9 million.