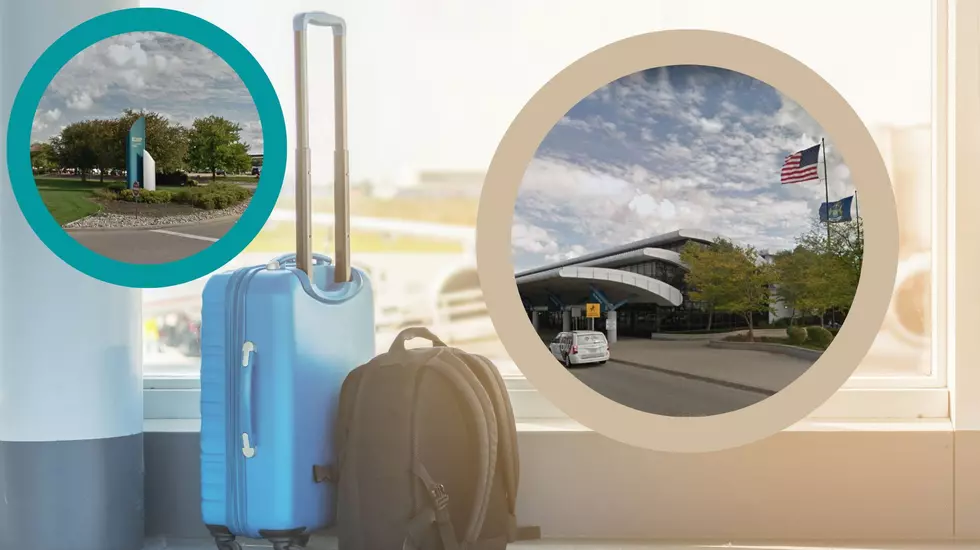 Flint's Bishop Airport Receives $3.5M Grant To Make Major Repairs
Credit: Google Street View, TSM, Canva
One of the best things about the Genesee County area is Flint's Bishop International Airport. The convenience of avoiding intense traffic to Detroit or, the ease of getting through security and exiting after arrival. It's quick & efficient... and now, receiving a much-needed repair funding.
What upgrades will Bishop International Airport make with recently received funding?
If you've boarded or deplaned in the last couple of years, you might have noticed random buckets placed through the terminal. Those have been placed to collect rainwater from the leaky roof.
Last July Michigan Governor, Gretchen Whitmer, announced federal grants totaling $63 million would be provided to three Michigan airports, including Bishop.
Flint's Biship International Airport will receive $3.5 million to replace the existing terminal roof.
The new roof will be energy efficient to decrease heating and cooling needs -- and, most importantly, not leak.
Bishop Airport COO, Chris Yeates, told 'The 'Gander' there will not be impact to travel or businesses inside the airport. And, it will free-up money for other improvements. (Personally, I hope that includes new carpet and interior color schemes -- no offense. Just looks like the 1990s.)
Re-live The Autoworld Grand Opening
Which other Michigan airports received federal grants?
Detroit Metro Airport ($49.6M)
Gerald R. Ford International Airport in Grand Rapids ($8.7M)
When did Bishop International Airport get started?
220 acres of farmland was donated by General Motors board member Arthur Giles Bishop (hence the name) in 1928. Until it's last major renovation/expansion, it used to be very small -- the air traffic control tower was basically above the terminal. At its peak in the early 2000s, over one million passengers used the airport. It's over 300,000 in present day.
Please, Genesee Valley Do Something With The Old Sears
See Inside: Flint's Farmers' Market
See views and businesses from inside the flint farmers' market
The Genesee Valley Mall in 2022. Have You Seen It Lately? [PICS]
The Genesee Valley Center in Flint, MI has gone through some rough times lately. If you haven't been in there in a while, see what it looks like not in the pics below.
Courtland Center Mall in Burton Looks Like a Ghost Town Movie Set
Malls in America seem like they are dying a slow death and Courtland Center in Burton, MI is no exception. See what's left inside the mall here.